I recently got back from a trip to the Balkans and it was pretty great! My girlfriend and I were going to the south of France for her friend's wedding, so we decided to make a mini vacation out of it. We chose the area because it has awesome hiking, it's real cheap, and she wanted to go someplace she wouldn't go to on vacation with her parents (she's been to most of Western Europe already).
I arrived to Paris before she did, so I went to a modern art museum I really liked last time, Palais de Tokyo. I didn't like the exhibit as much this time, but there were a few cools parts. One part was this funny mashup of a Seaworld/capitalism critique, so it had all these horrifying mockeries of pop icons made out of clay, like this derpy Marxist Donkey Kong: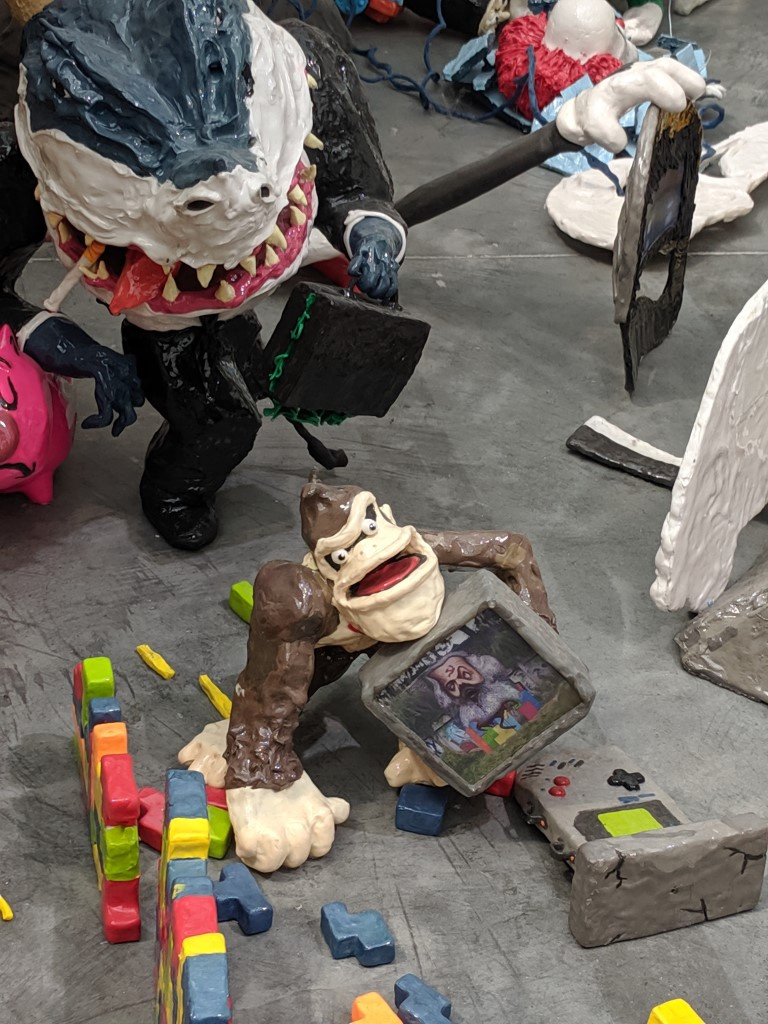 Another interesting one had these robotic animal contraptions in piles of dirt, attached by pulleys on the ceiling so that different ones across the room moved in sync: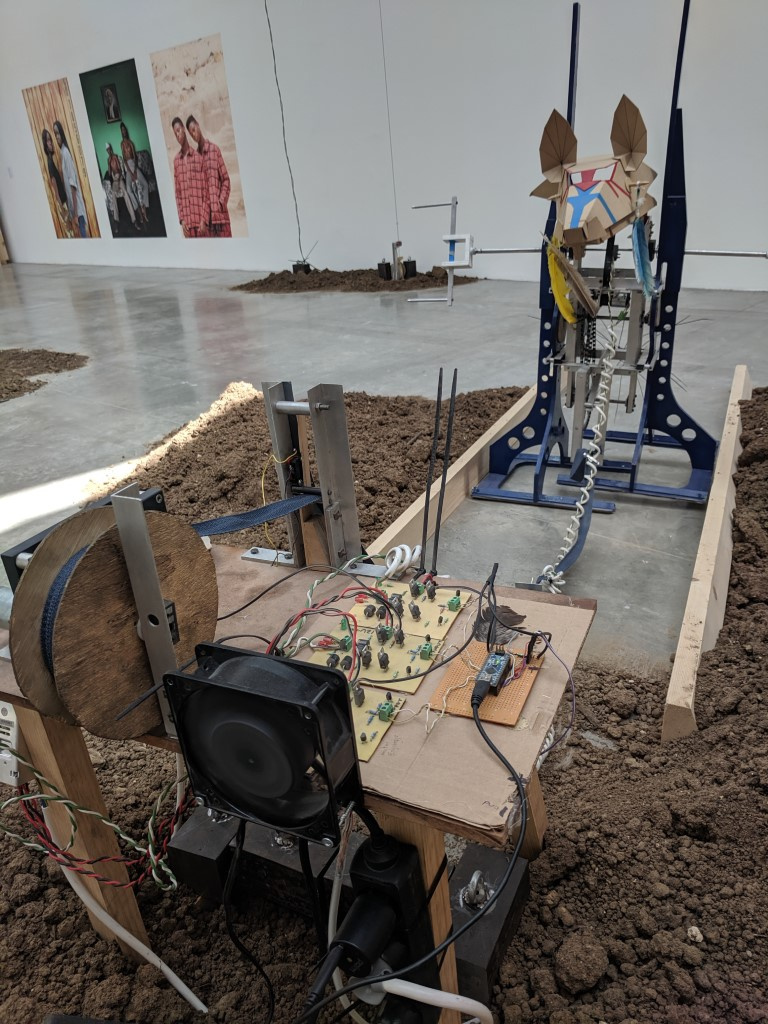 I noticed that they actually used Arduinos for them! Which is a pretty ideal use for them. I always find it funny when artists use tech for exhibits, because they're often not very familiar with it and end up doing kind of bootleg things. For example, this one actually wasn't working when I was there; the fan you see seems to have been slapped on after the fact, probably to cool those regulators you see (that they didn't attach heat sinks to…).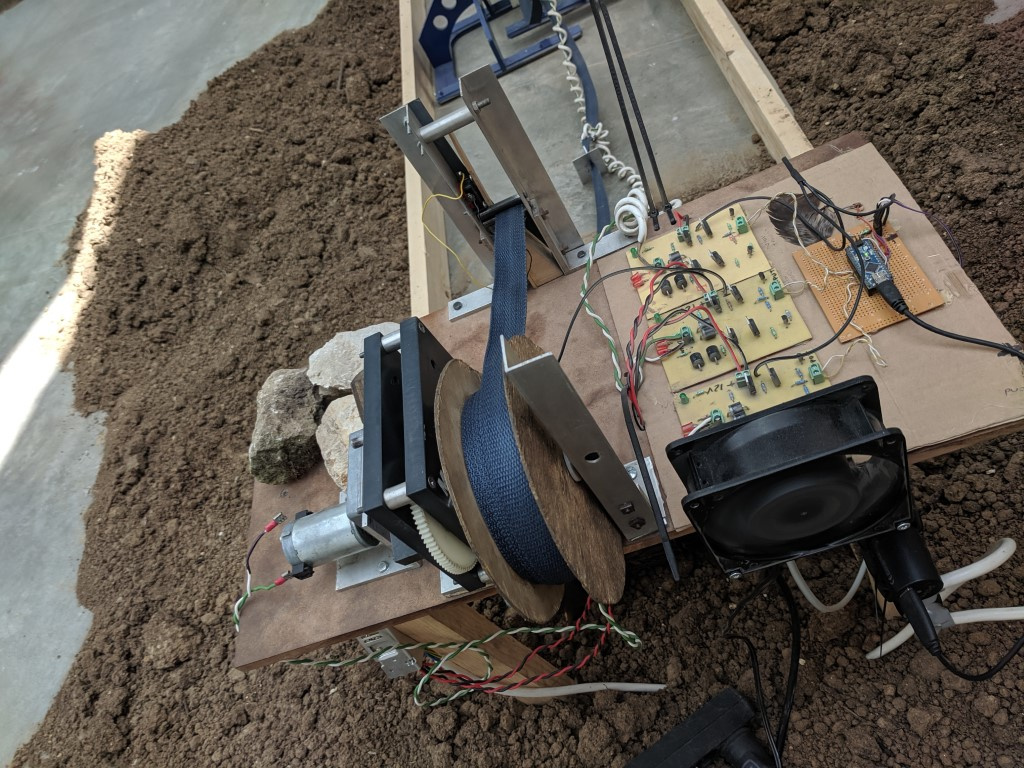 Also, please enjoy this menacing man offering (insisting?) you snacks on the metro: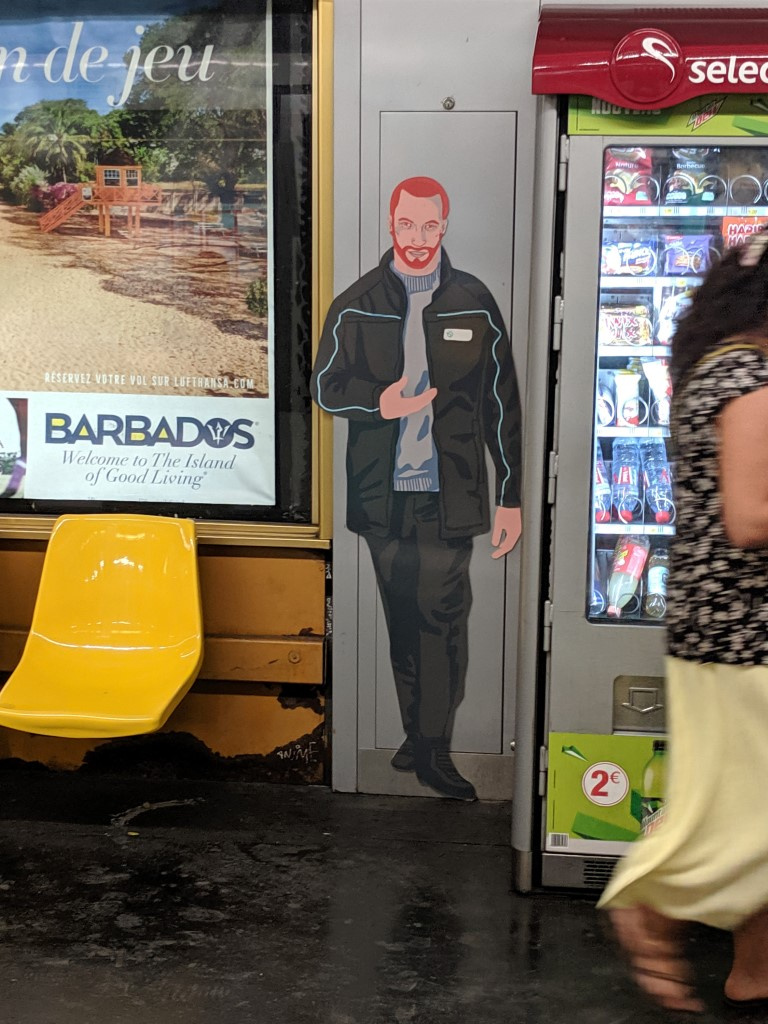 The wedding was really nice. I had only met the bride before but everyone in both of their families were so sweet and welcoming to me. The south of France is really pretty too:
After the wedding we flew off to Tirana, the capital of Albania. From what I had read online, a lot of people have an impression of Albania as being a real seedy place, full of thugs and gangs, so I was a little on my toes. However, we immediately noticed that people were incredibly friendly. Our cab driver from the airport didn't try to rip us off, and I asked a guy in a store for any tips on good places to eat, and he really hooked us up (more on that later).
We only had an evening and morning in Tirana, so we spent the evening walking around. You can definitely tell it was recently communist (Skanderbeg square):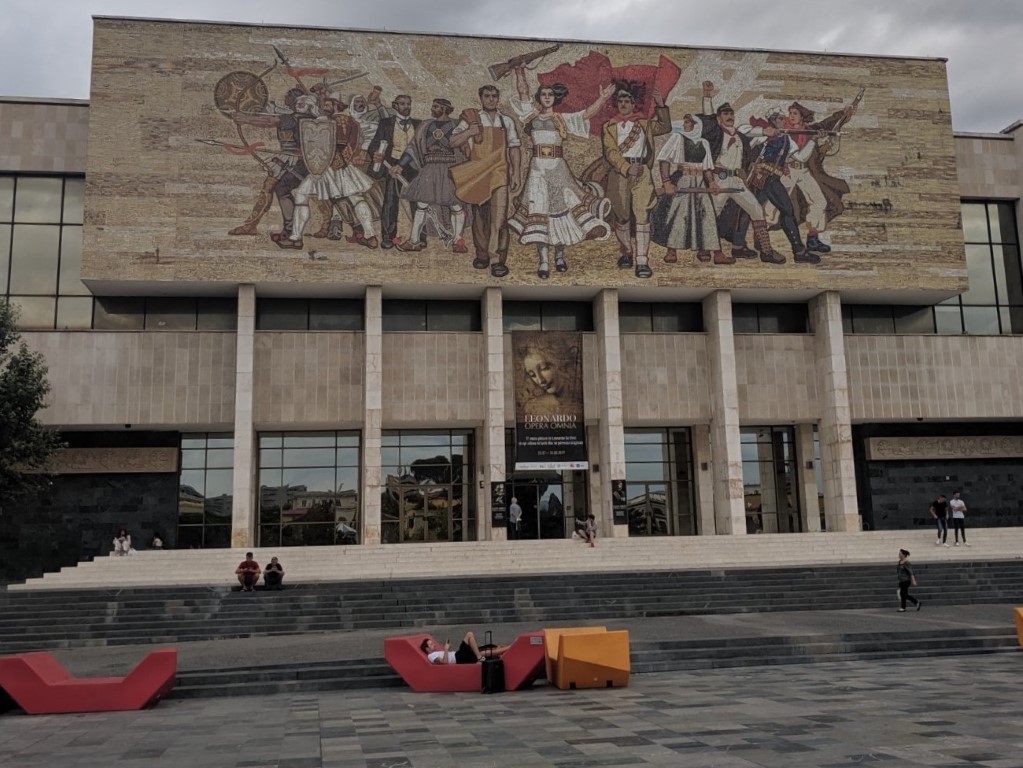 One very famous example of this is the "concrete pyramid", a monument/museum to the communist dictator Hoxha: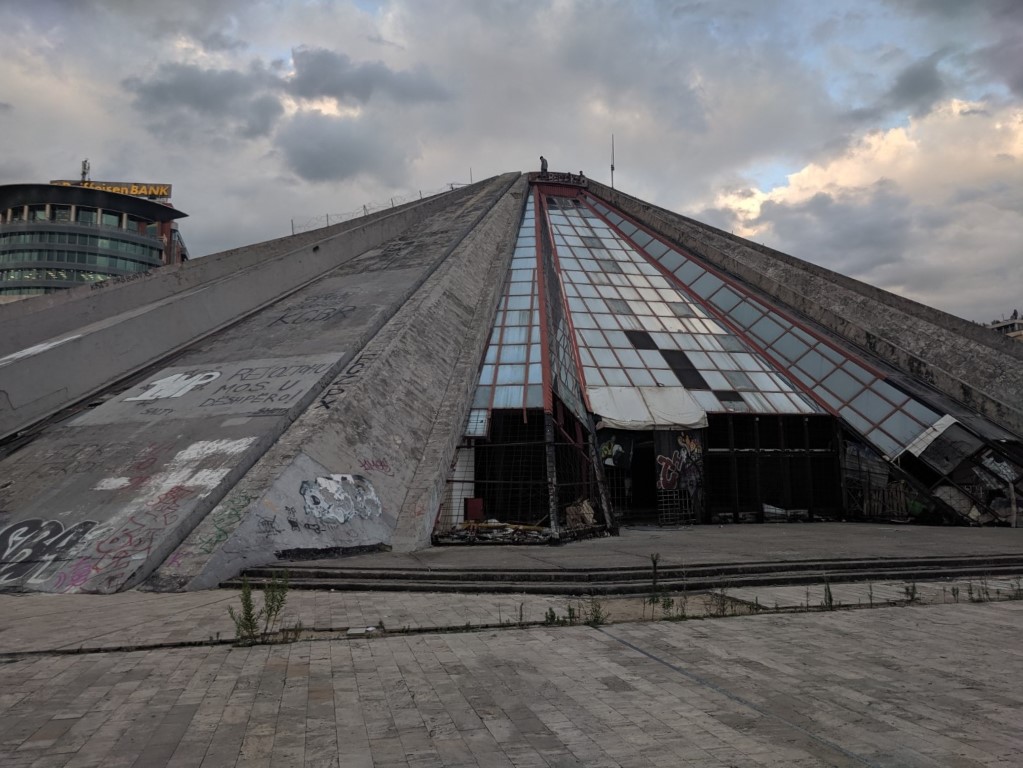 There's a fence with about 10 holes quarter-heartedly trying to keep people out, but it's a pretty common thing for locals and tourists alike to climb it. At the top, I met a few local kids drinking beer, and they told me about the pyramid, Hoxha, and Tirana in general. And they took a photo for me!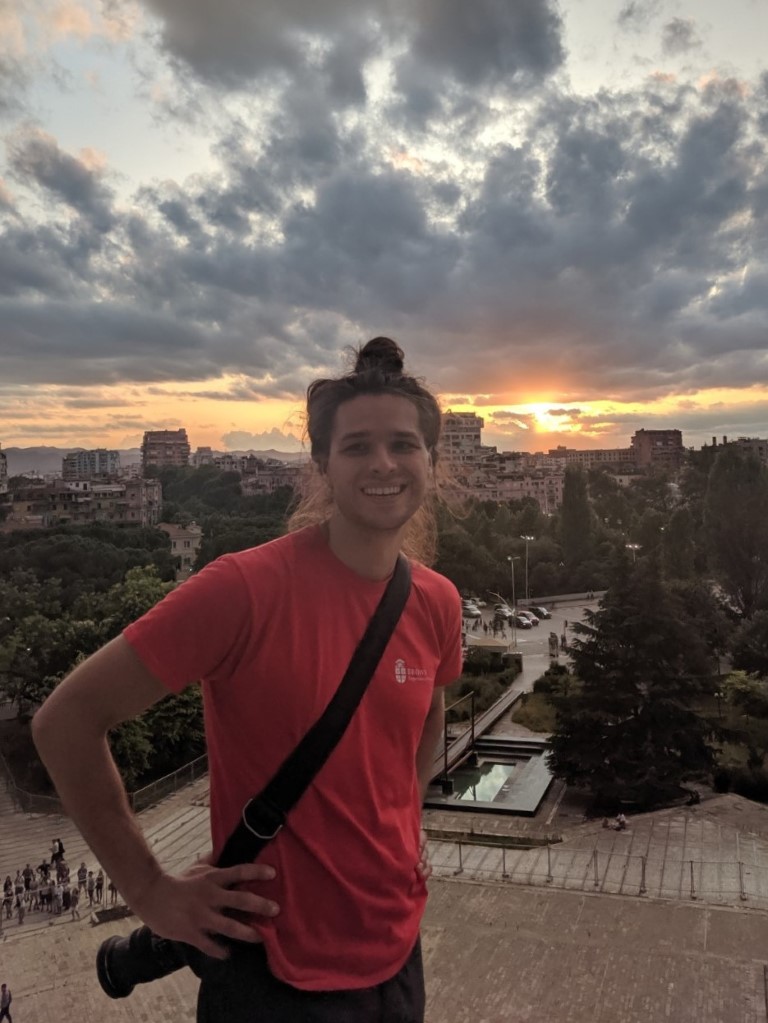 They asked me where I'm from, and they seemed flattered that I had come from the US to see their city and country, and why not? It's a pretty great place now. Tirana also has a bunch of street art, which I'm a sucker for.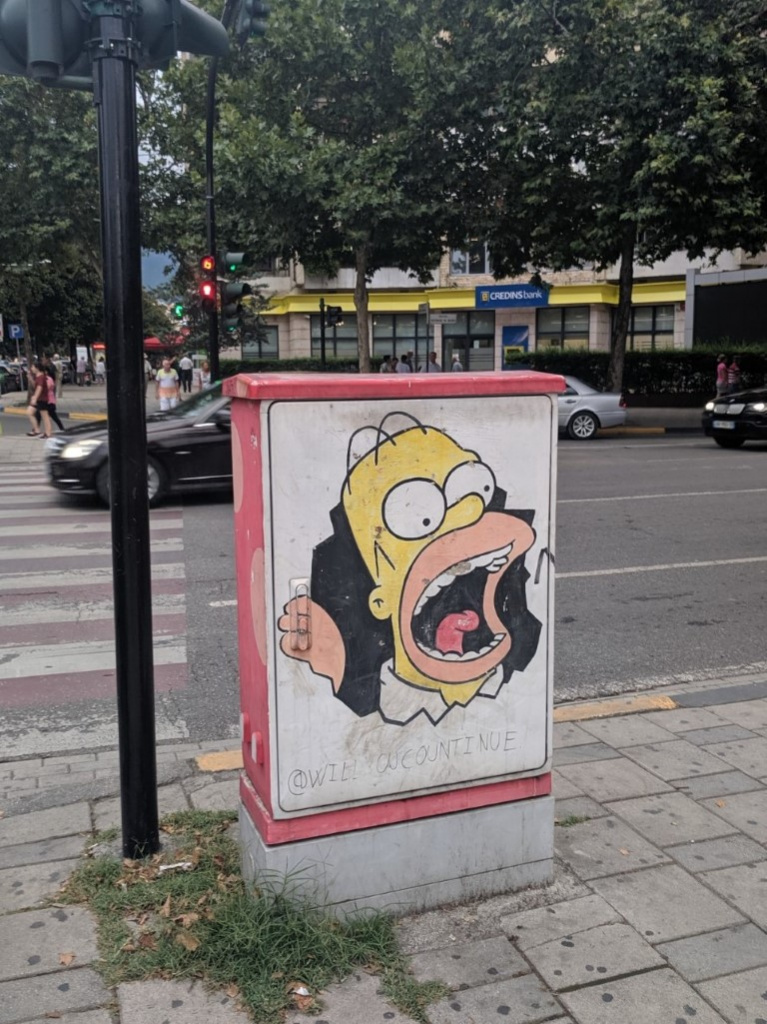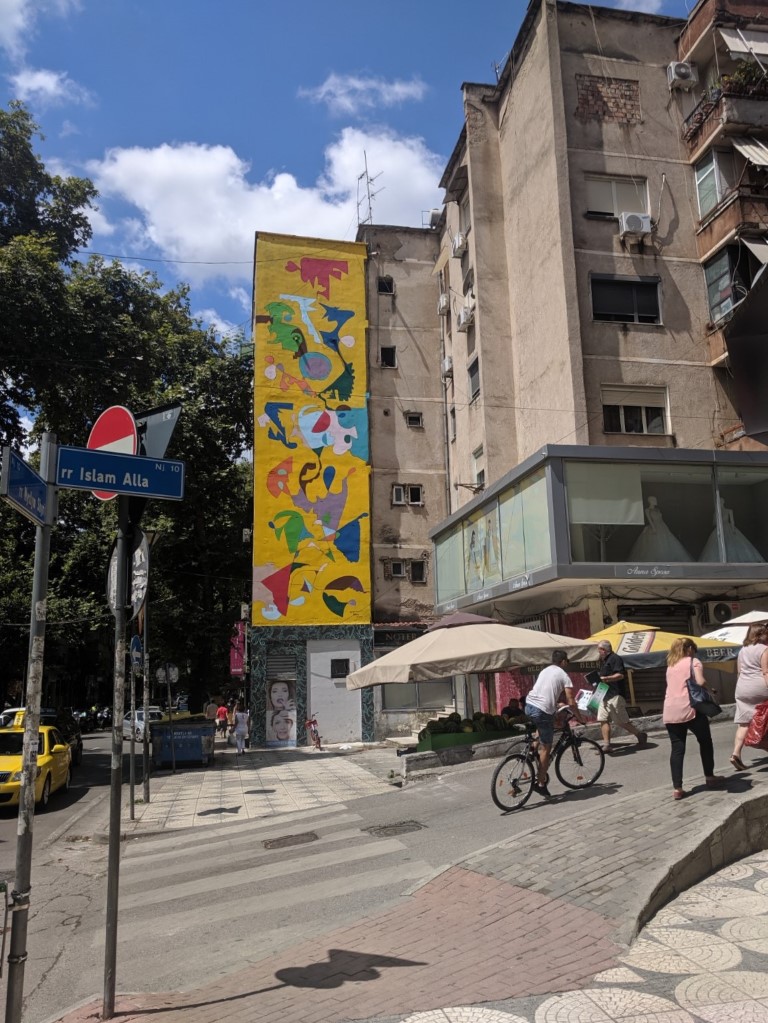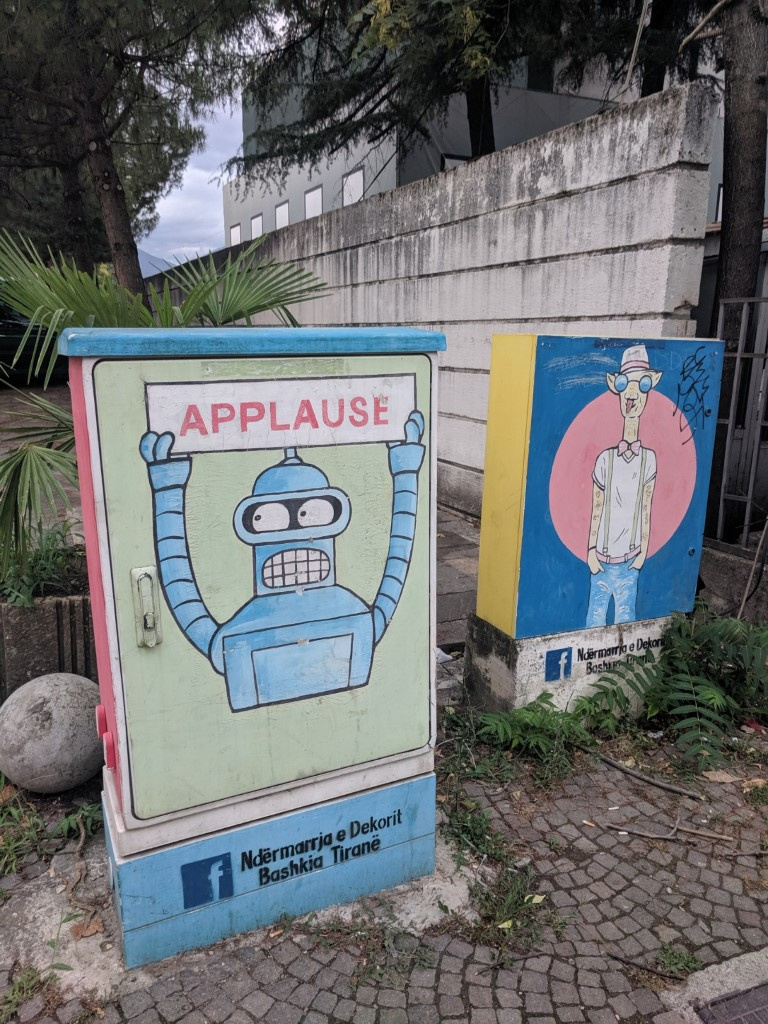 Something that I really liked is that it got dark as we were wandering around, but still TONS of locals were out. It felt completely safe; kids and families were just hanging around this nice park. They had outdoor ping pong tables made of concrete that people were playing on!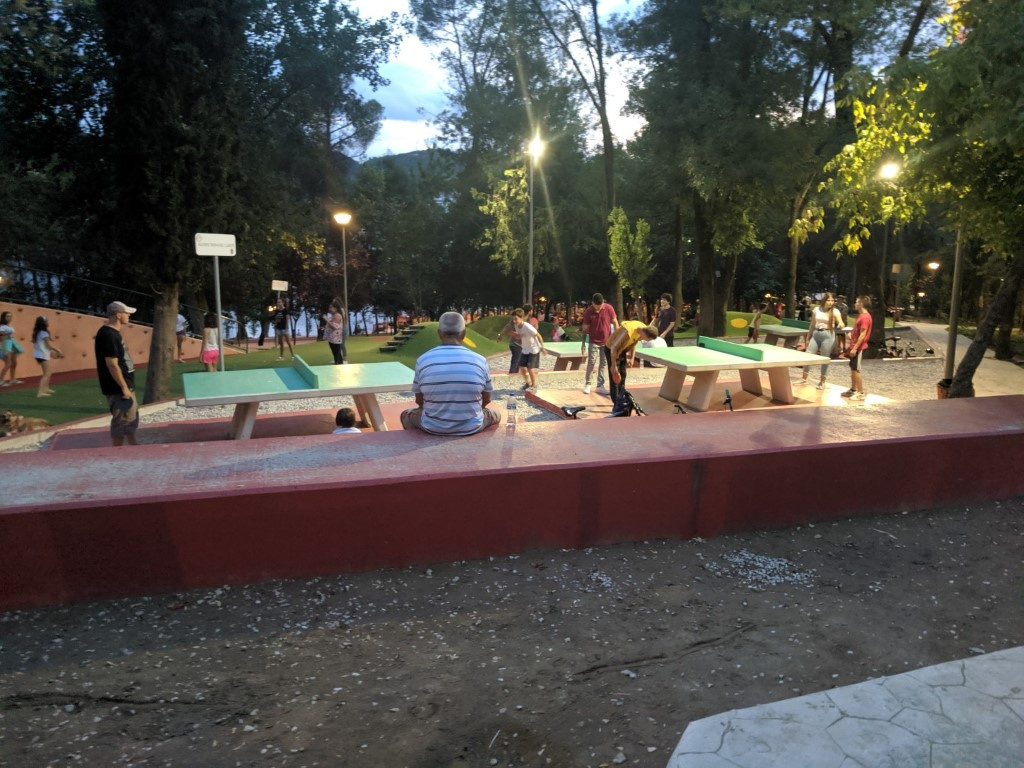 It felt like a happy place with locals just doing their own thing and enjoying life there. Good vibes.
We decided to check out the restaurant that guy had told us before. We were basically expecting it to be an endorsement for his cousin's crappy restaurant or something, but when we stopped by, we couldn't even get in that night because it was so packed and we didn't have a reservation! We were intrigued, so we came back the next day for lunch.
It was FAN-CAYYY, maybe one of the nicest restaurants I've been to. It was very traditional~~ Albanian food, not the typical Mediterranean-middle eastern type stuff (which I also love!) you'd get elsewhere. It had a cool rustic look, and we got dishes with weird things like quail legs in plum sauce, zucchini blossoms, etc.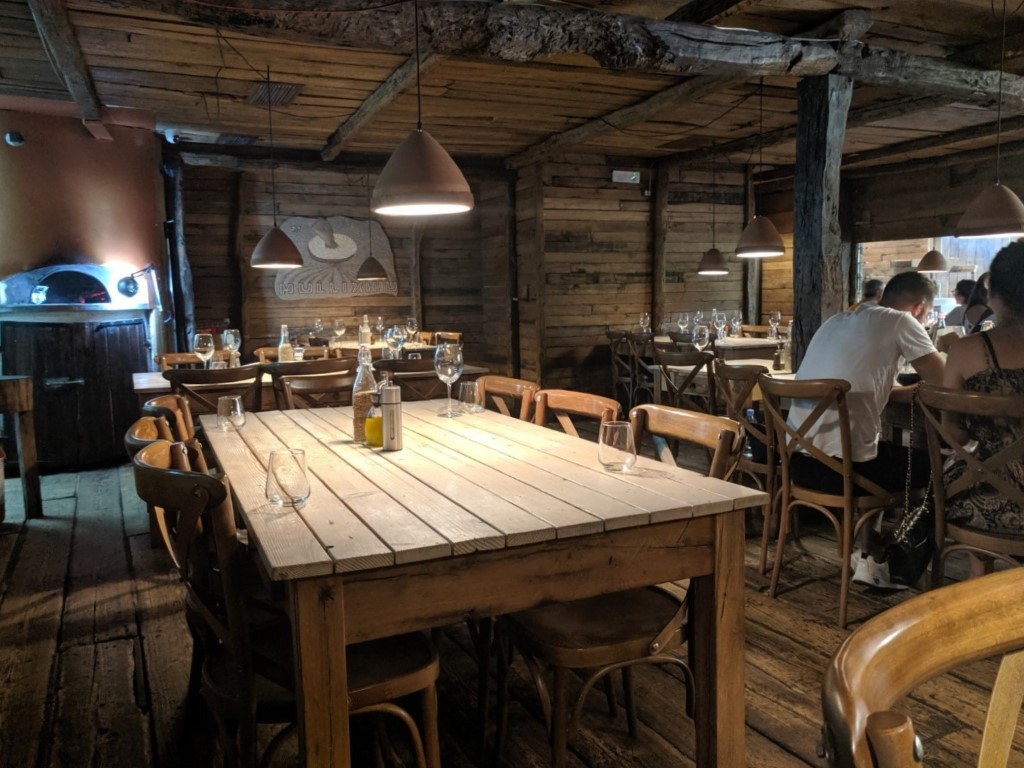 It also came with a bunch of interesting side dishes, like this fermented corn custard served in this…teapot? with a little birds nest baklava in a wooden plate on top. And the entire meal was only about 20 bucks!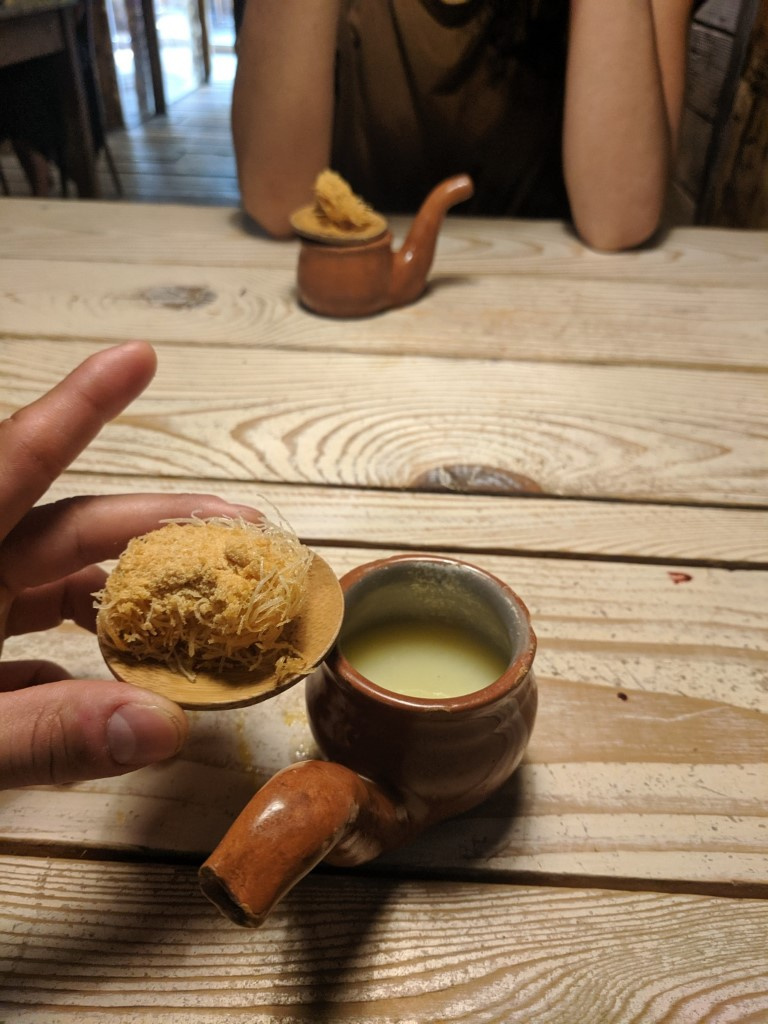 Tirana was really just a fly-in point for us, but it turned out to be a really great surprise. Anyway, we were soon off to Shkodra in the north, which is a common entry point to the "Albanian Alps" were were aiming for. Shkodra is a small-ish city, not known for a ton, but it has a nice vibe to it too. It has an old castle we biked to for sunset, with some pretty sweet views: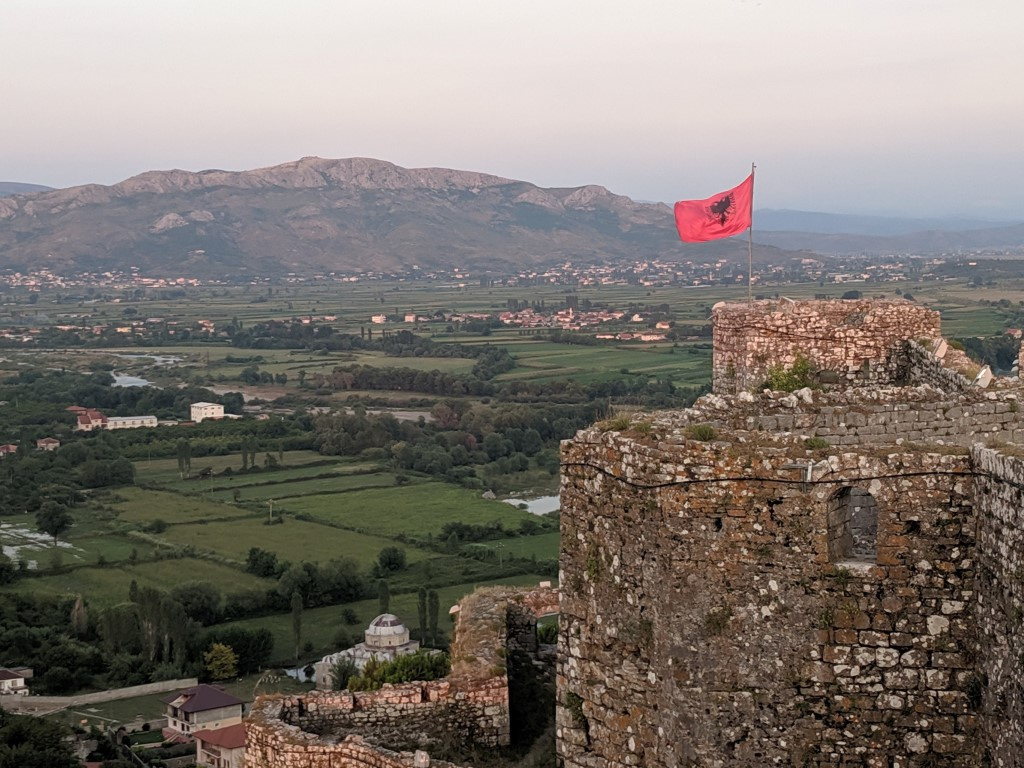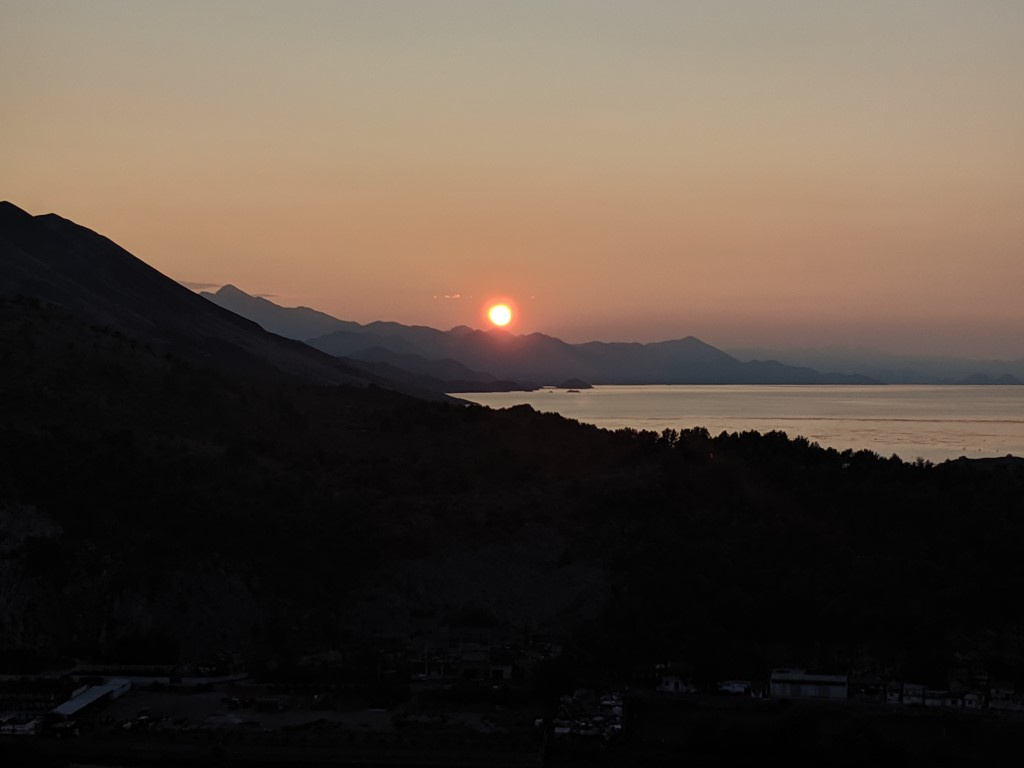 Dang, the Albanian flag is cool. Next we were off to Theth, which is where we'd start our hike. We left our main bags in the hostel in Shkodra, took a small pack of essentials for the next few days, and took an extremely bumpy bus ride into the mountains. Even the views on the way were getting us excited: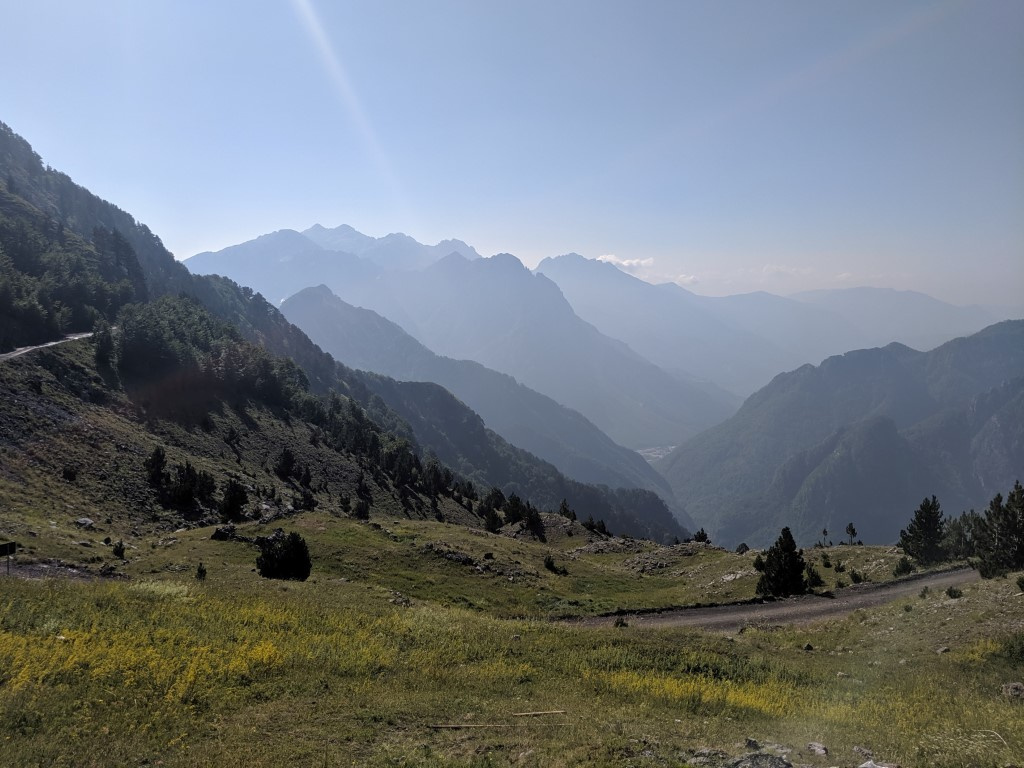 Theth itself is great. It's a tiny village of about 200 families. I think their economy is mostly guesthouse-based at this point, but they also farm and herd. It was really quaint, and tucked into a valley with mountains on all sides: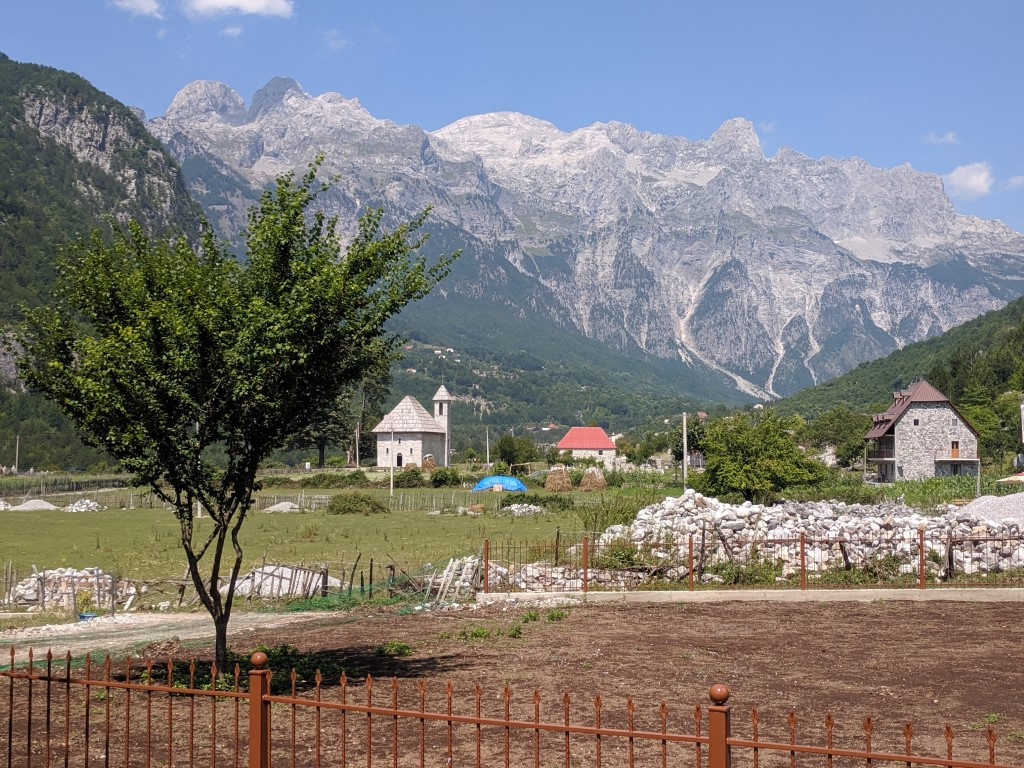 And here's the little church you'll see on every travel blog, for good reason: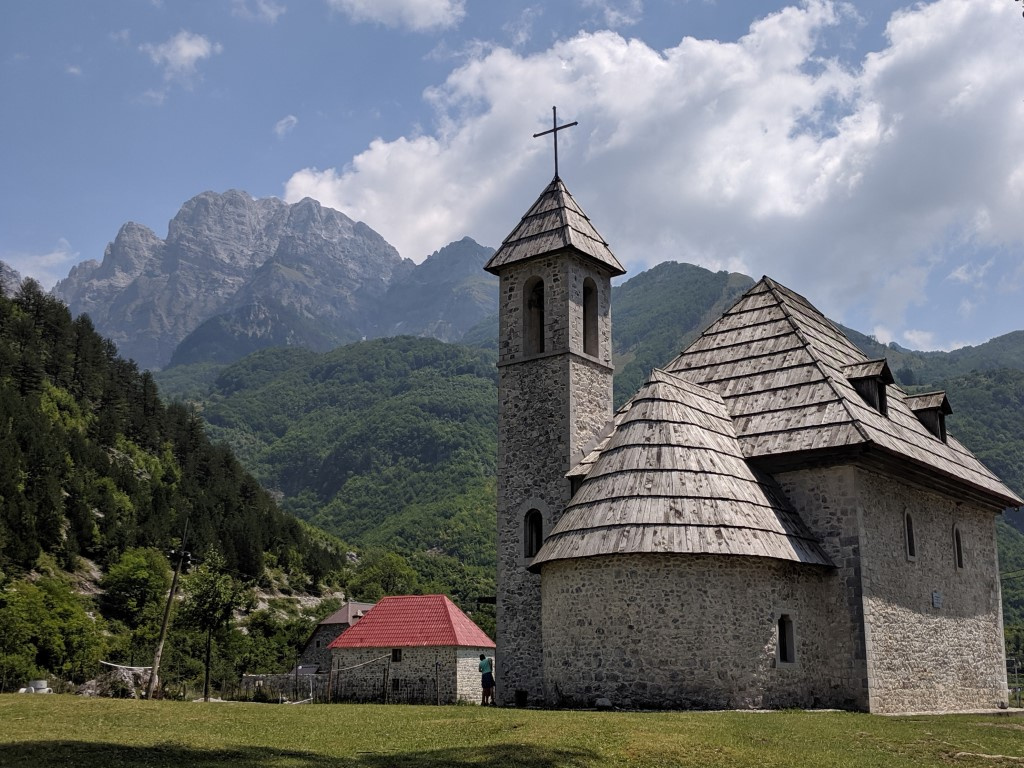 We didn't have long and wanted to make the most of our time, so we did a day hike the first day we got in, to "the blue eye of Theth". It's this freezing cold (maybe 5 Celsius?) pool you can jump in. It was pretty toasty out, so we were ready. The hike there was great, and the pool was an amazing blue in a lush waterfall nook: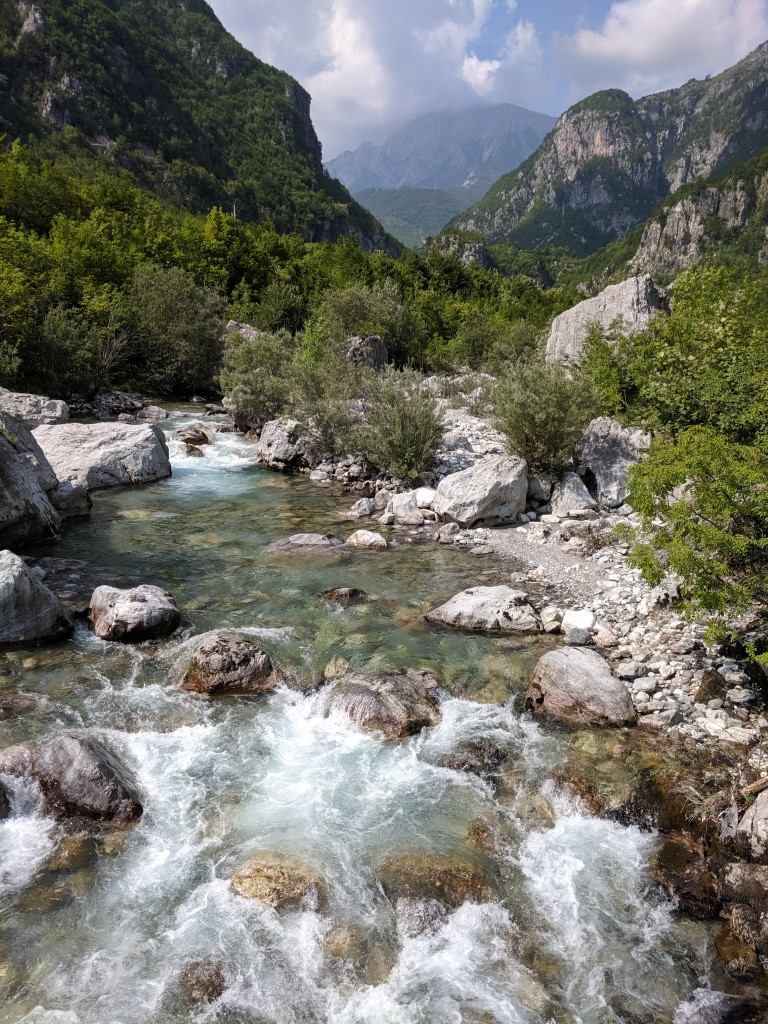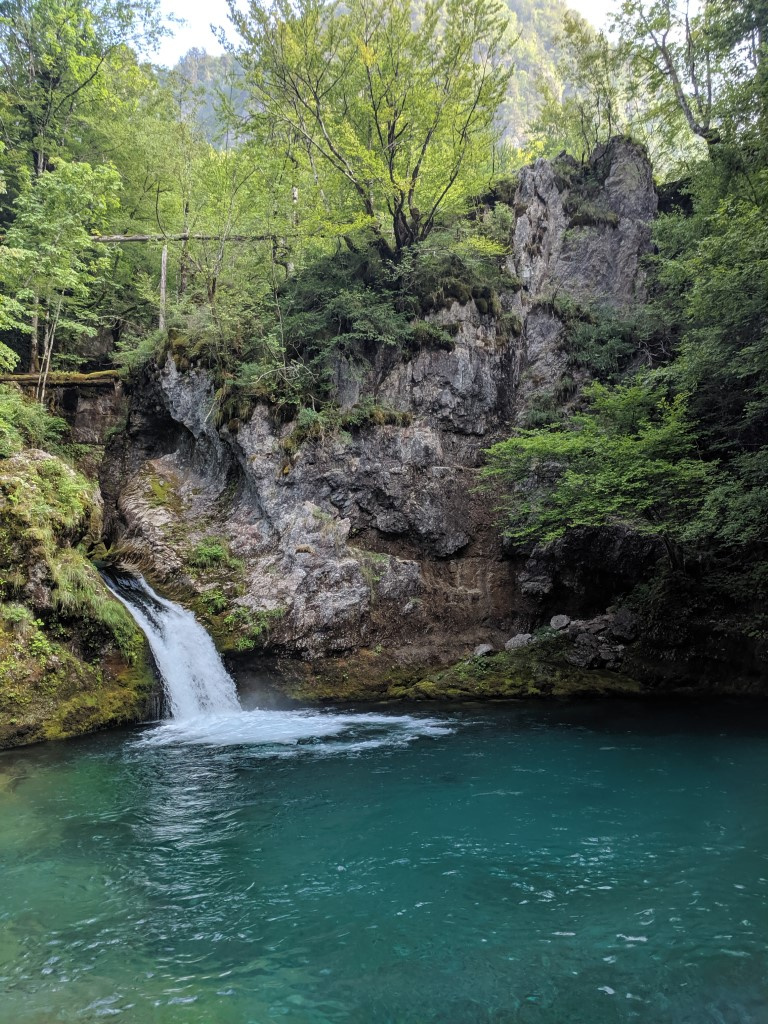 I knew it was gonna be cold, but DAYUM IT WAS COLD. You really can't ready yourself for it! It was neat though: about a minute after getting out, your skin would feel all tingly and pleasantly warm. We jumped in a few times, but it wasn't the type of thing you'd hang around in unless you're a crazy person.
The hike the next day was definitely the highlight of our trip, almost what we had organized everything else around. I don't want to link to any bottomfeeding travel bloggers, but you can google "Theth to Valbona hike". We were worried because the forecast said "scattered thunderstorms", but…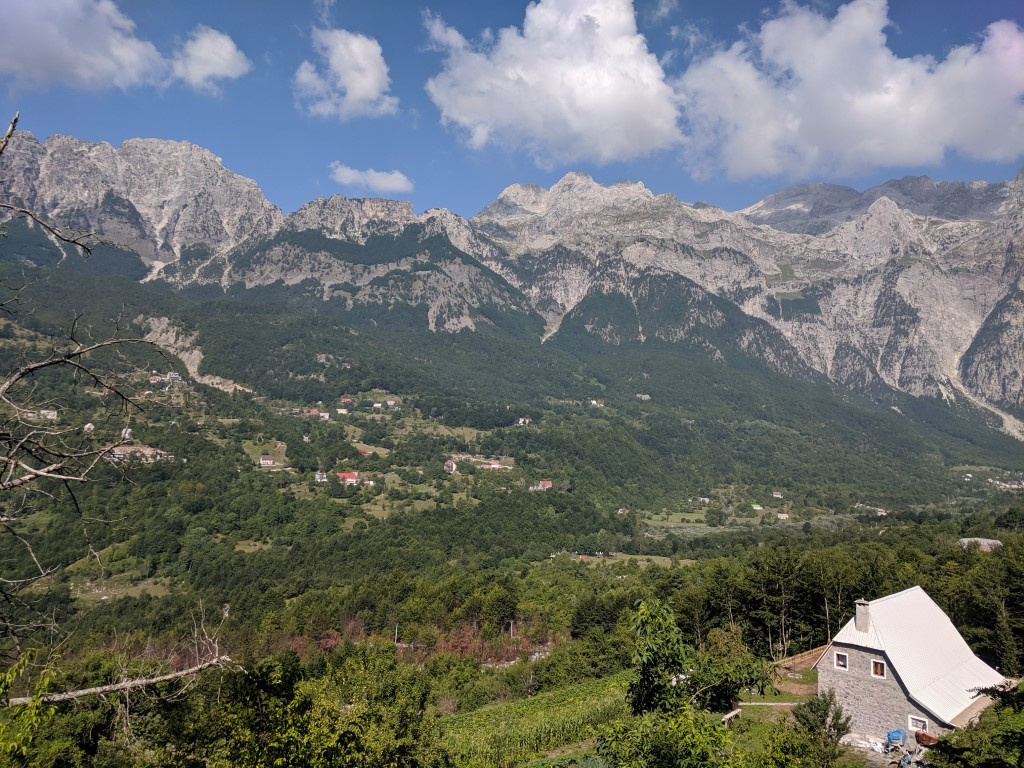 The hike is about 17 km, with about 3,000′ elevation gain. It's not too hard, and it's made easier by a few cafes on the way up. It was amazing, though. You first get out of the Theth valley, and then it reaches a golden field: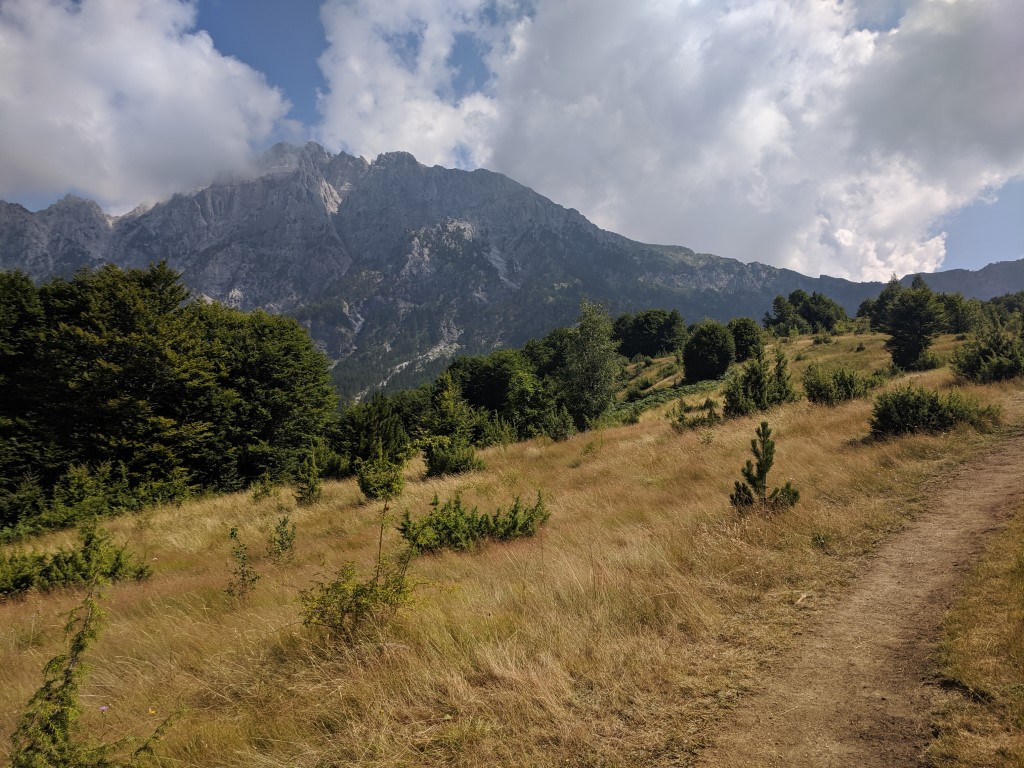 It goes through a bunch of really different terrains, like this bendytree forest: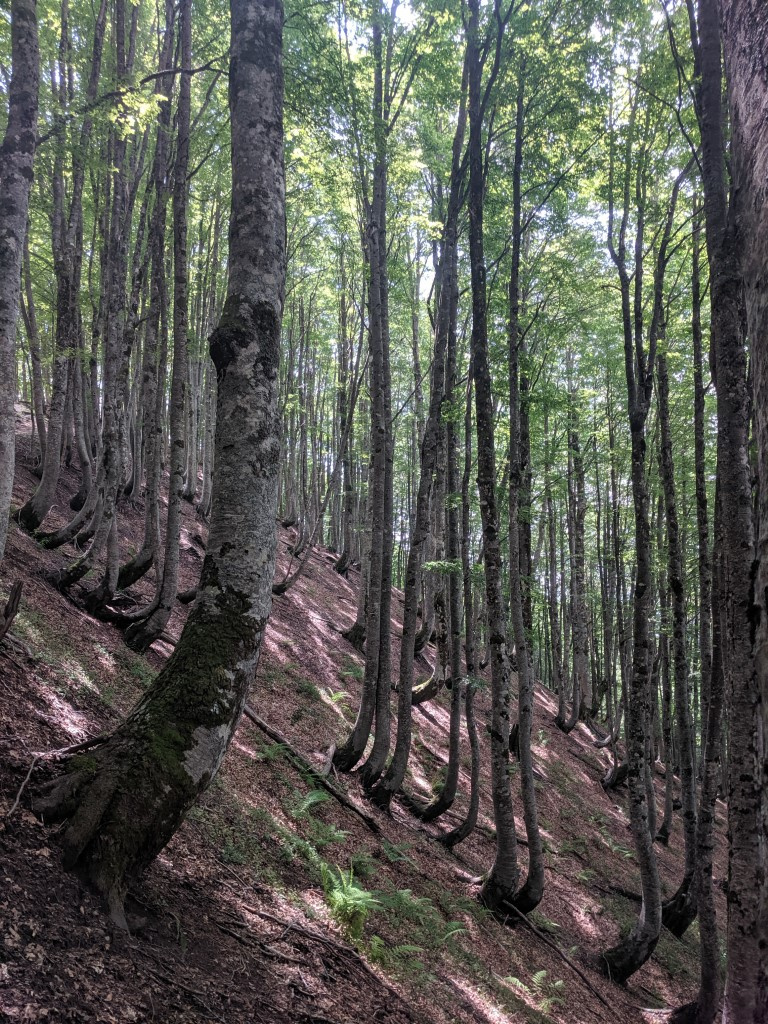 and then lush meadows: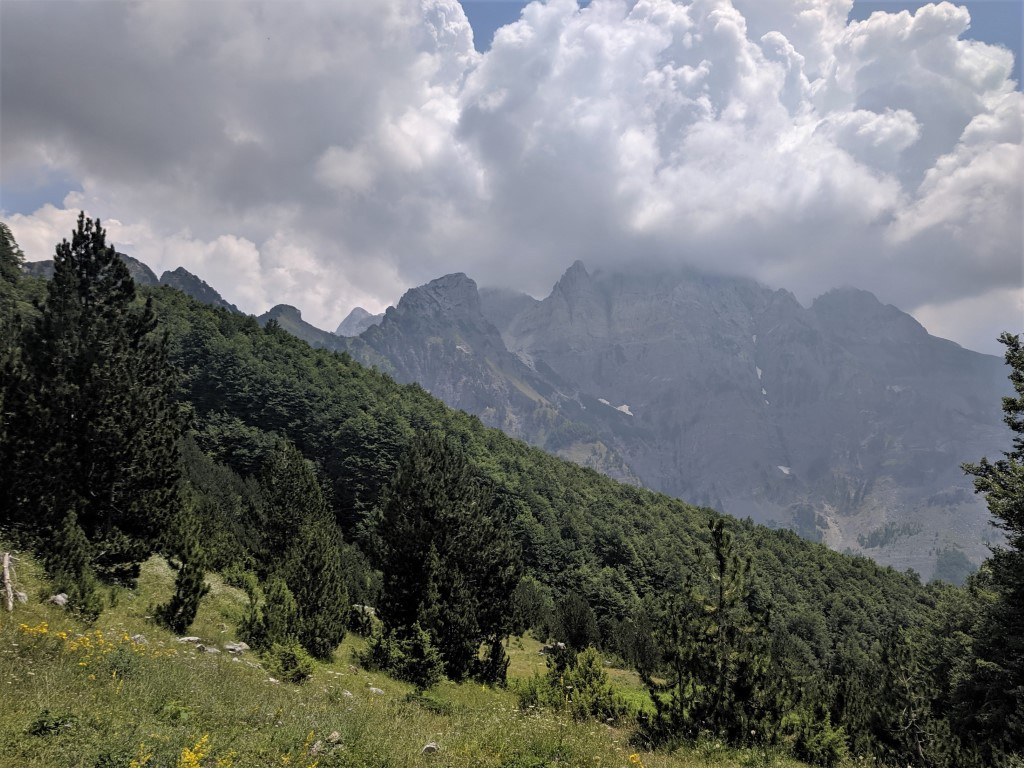 This region is often called "the Albanian Alps", and parts like that made me see why. We even found wild raspberries and alpine strawberries and scarfed them down like a couple of hungry bears!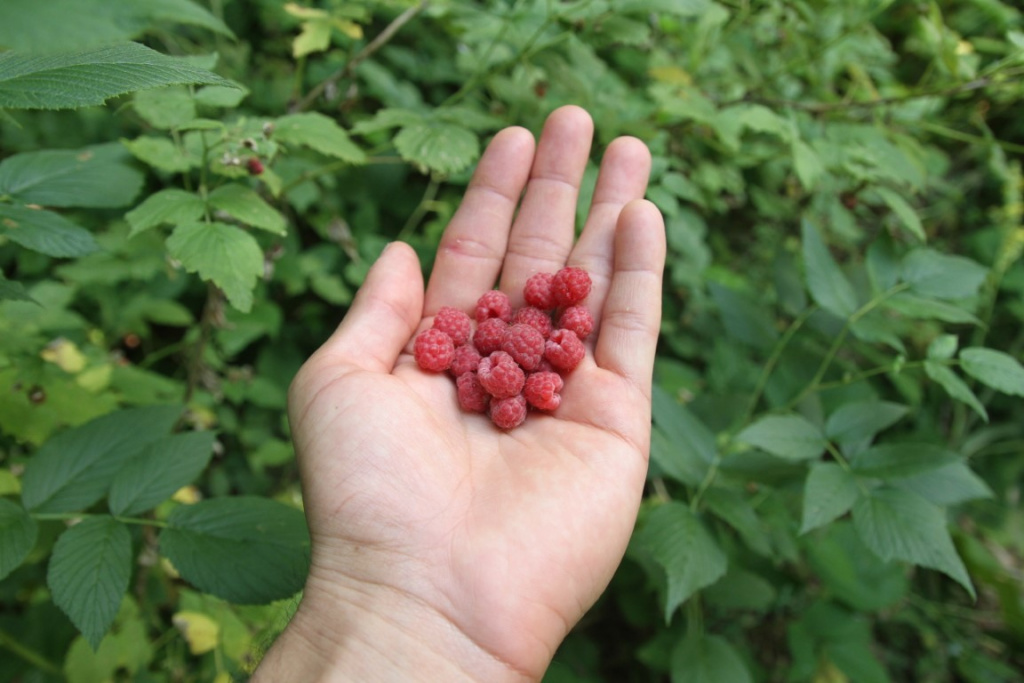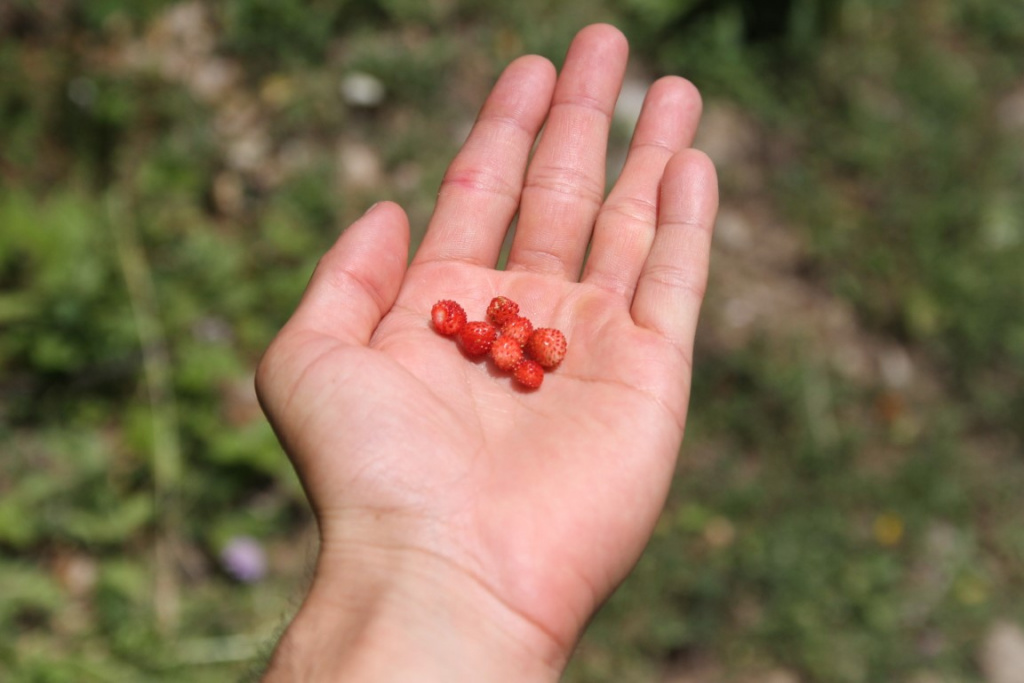 Finally, the peak is insane. It has a 360 degree panoramic view. Another name for this range is actually "the Accursed Mountains", and here we saw why: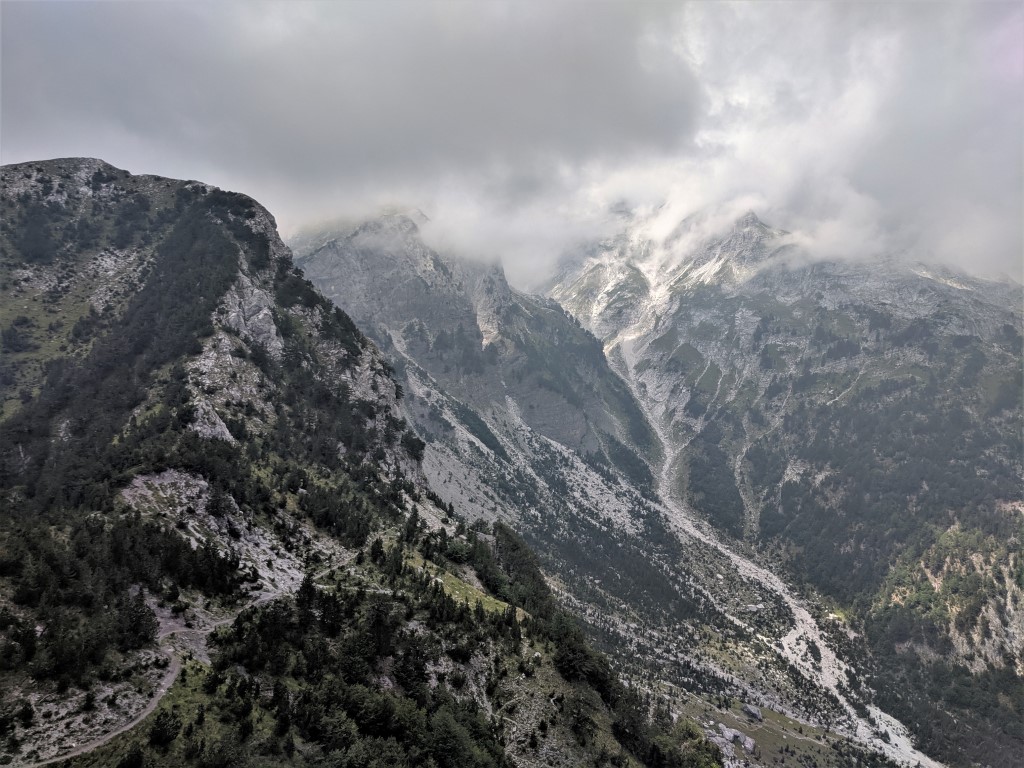 The storm was actually starting to come in at this point, but that made it look even crazier.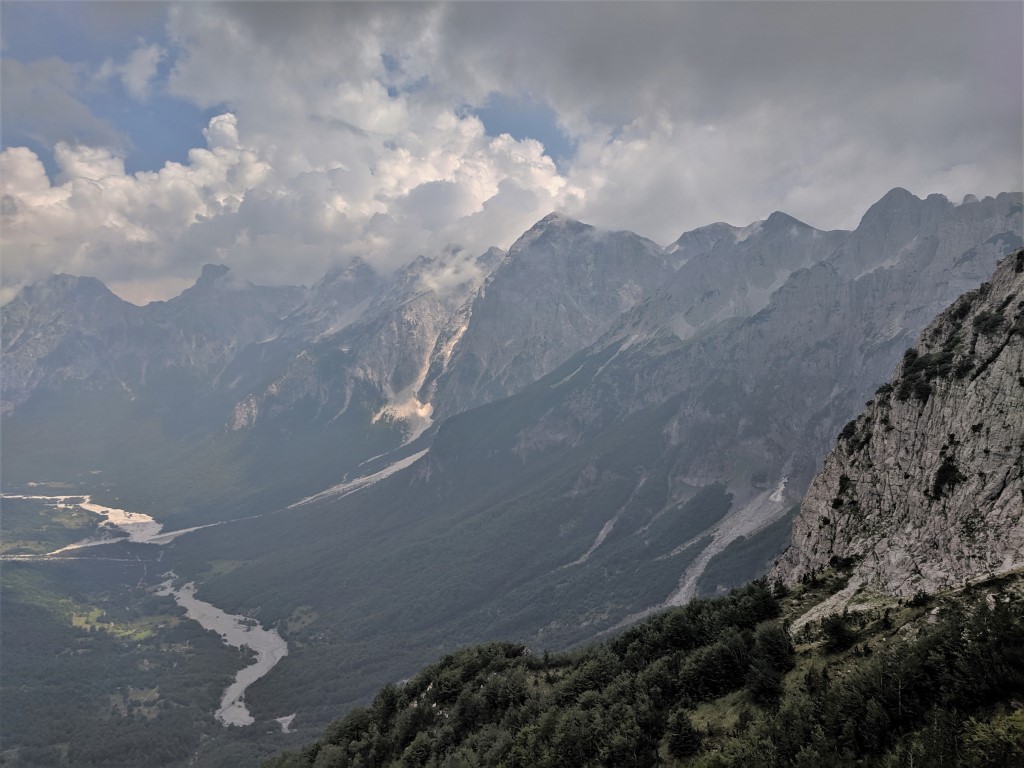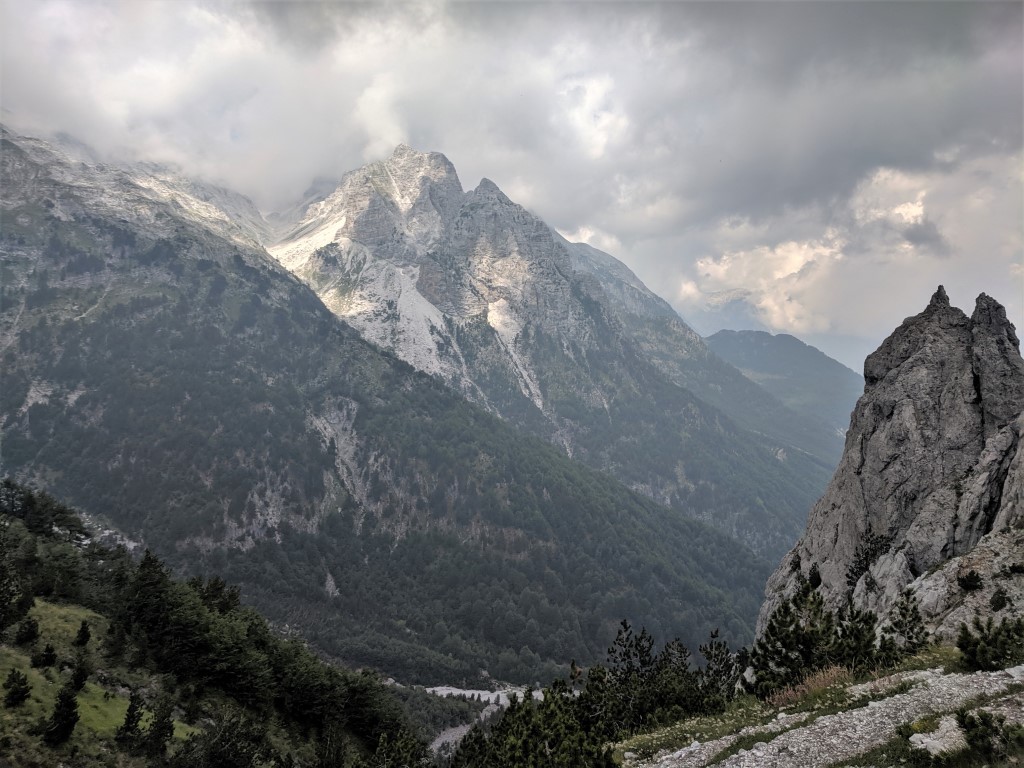 On the way down, it did start pouring for a bit, but it was short and gave rise to even prettier views after: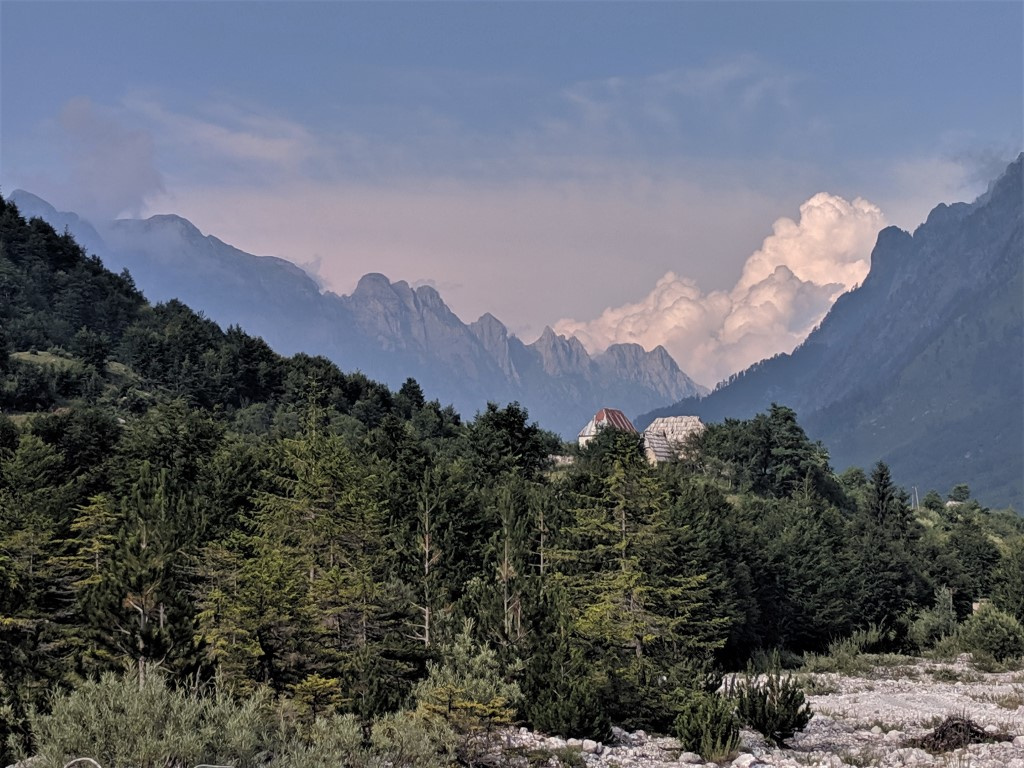 Much of the second half is along a wide, dried up riverbed. I think the trail is closed between November and May or so, so I'm guessing that's when the river is there.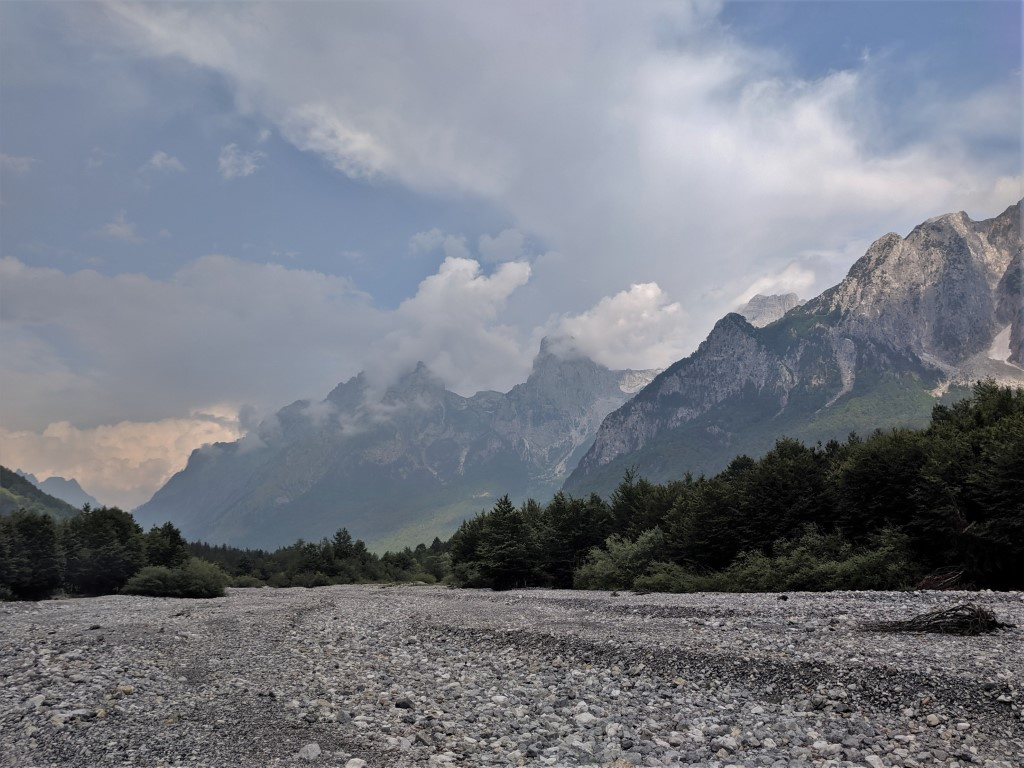 We didn't even have a guesthouse booked for the night in Valbona, but I had heard that there are enough of them that it's easy to find one if you're willing to walk around and ask. We managed to get a dingy room at the first one we asked, and it included a horrendous amount of delicious local food grown there: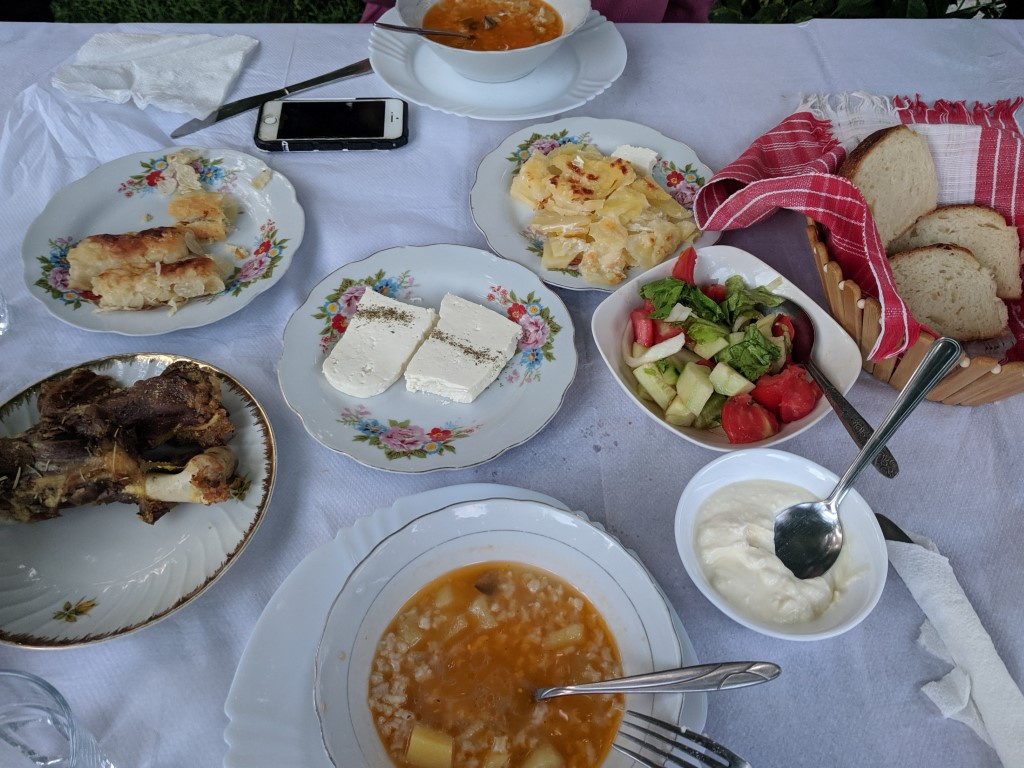 That's goat leg, cheese byrek, some goat cheese, fresh baked bread, and more. Even with our post-hike appetites, we couldn't finish it all. The view from the guesthouse in the morning: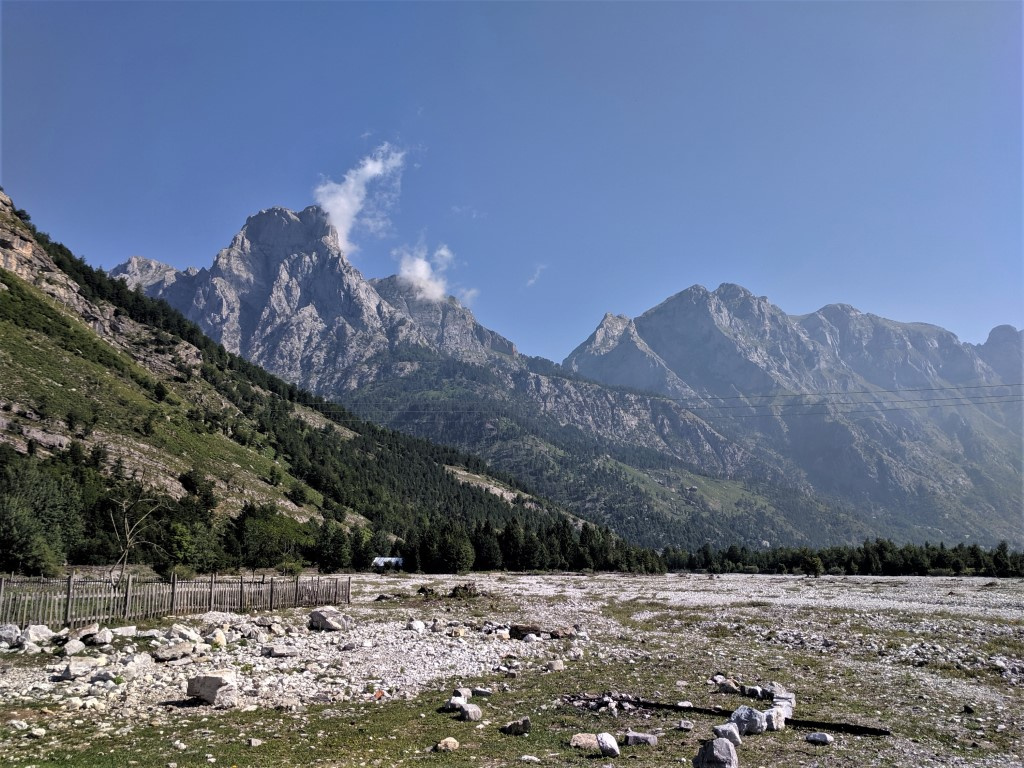 A common way people end the hike (if finishing in Valbona) is to take a ferry part of the way back to Shkodra. It goes through these fjord-like passes, and the water is this deep blue-green in the sun.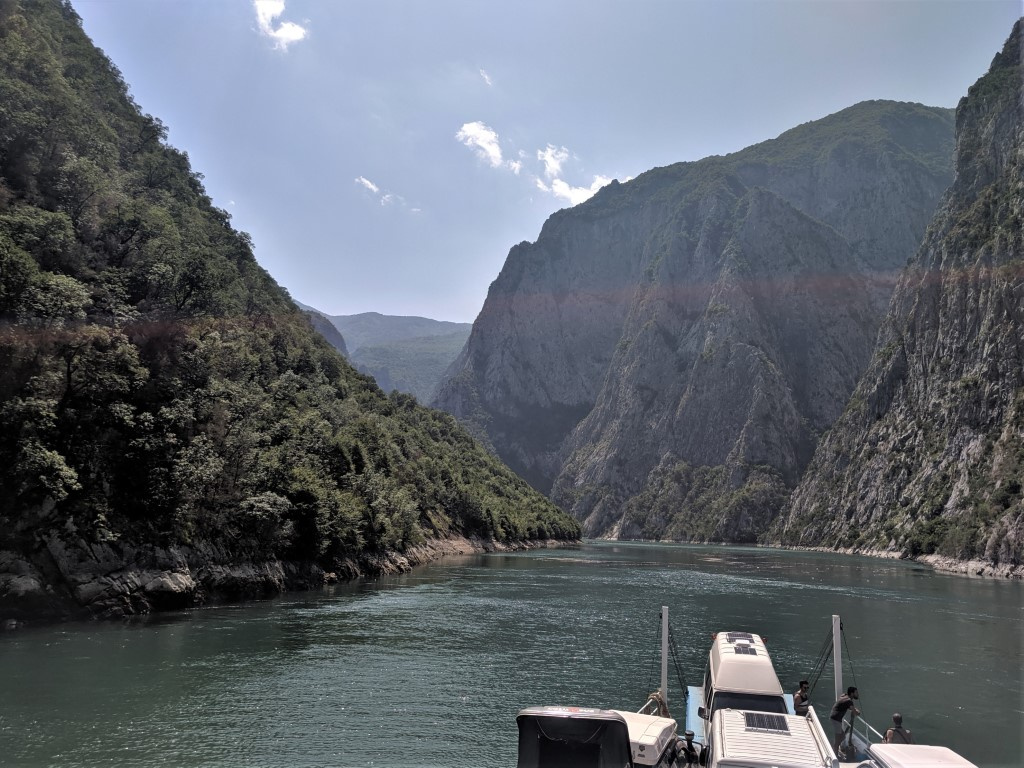 We had one last meal in Shkodra, at a 16th century hotel a guy we met on the hike told us about. Yet another example of "I wouldn't be able to afford this in America but it's the price of a movie ticket here":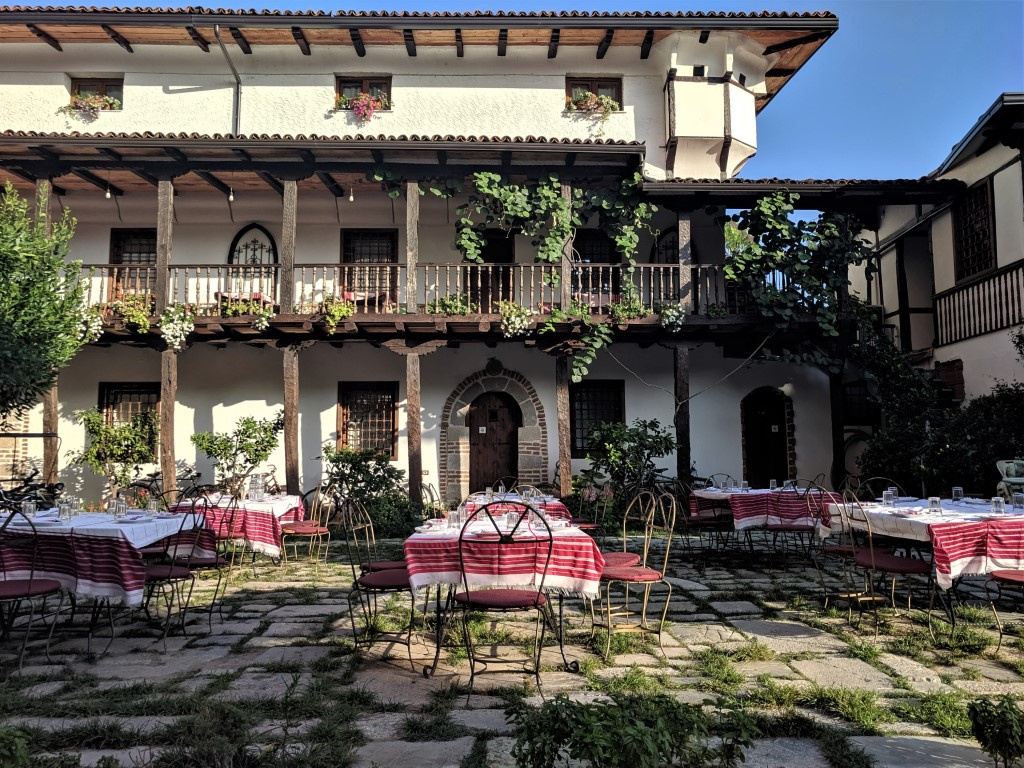 Our trip was almost done, but we planned it so we'd fly out of Dubrovnik (Croatia), so we'd get to briefly see it and Montenegro (which is on the way). We took a bus into Kotor (Montenegro), which is a city nestled in a valley next to a gulf that connects to the Adriatic sea. It's mostly known for the "old town", the old part of the city with cool architecture, narrow streets, and mountains in the background: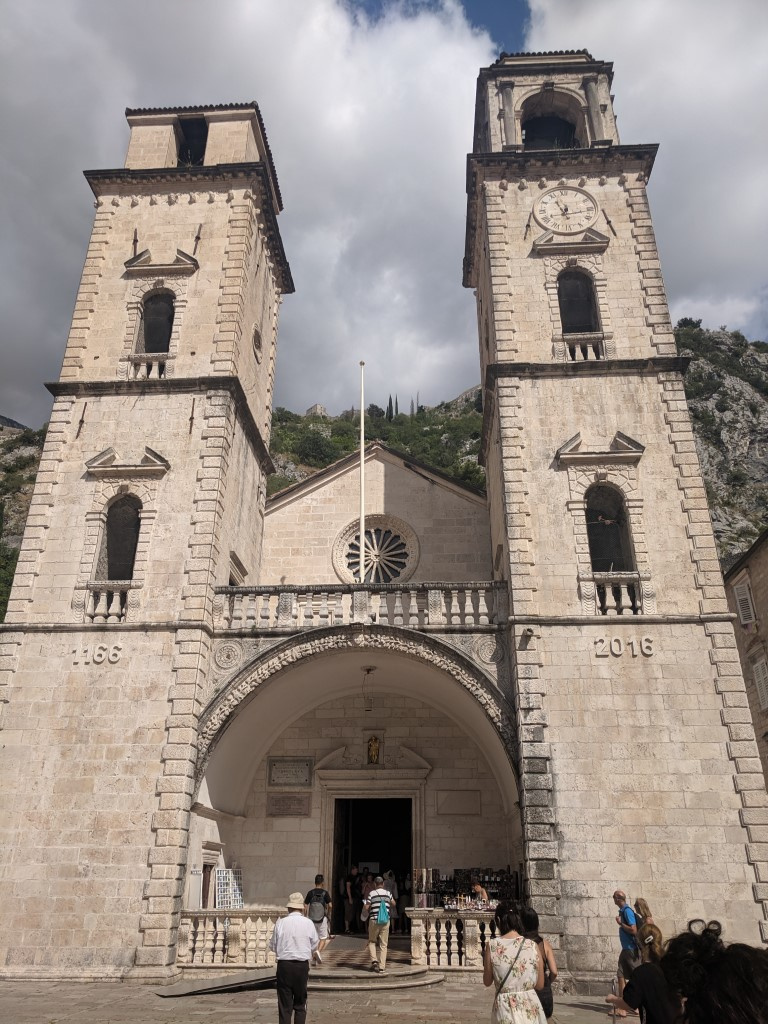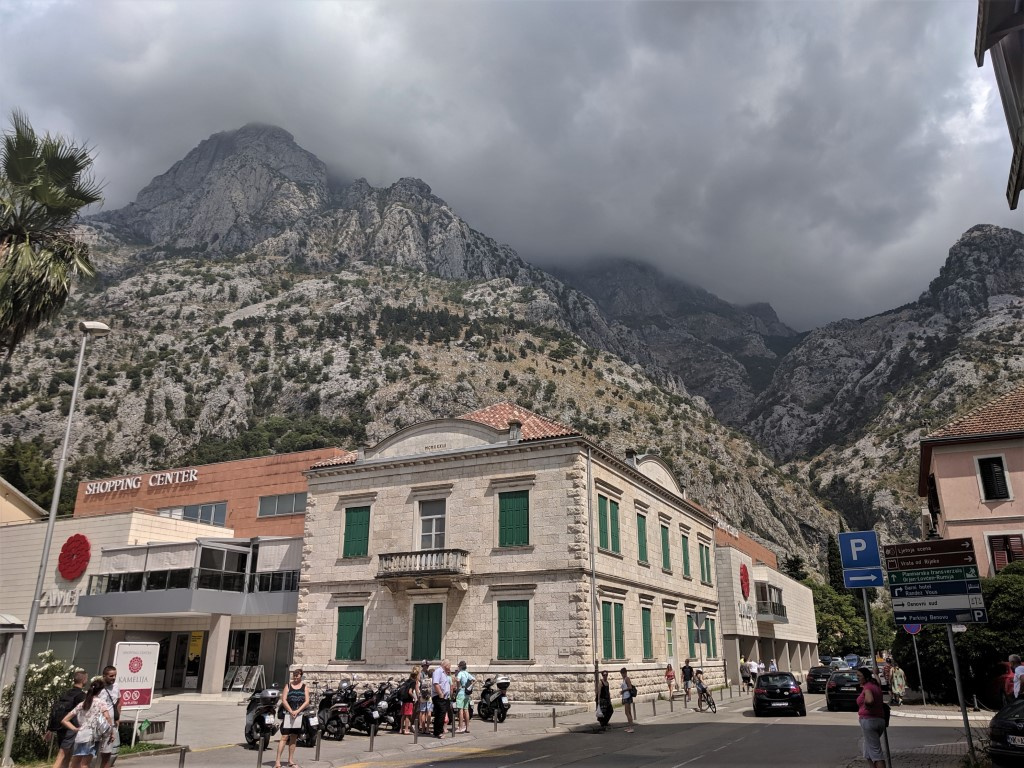 Kotor has a distinctly different feel than Albania. Montenegro is a lot wealthier than Albania, and Kotor specifically is very touristy; in fact, they come in distinct waves on massive cruise ships: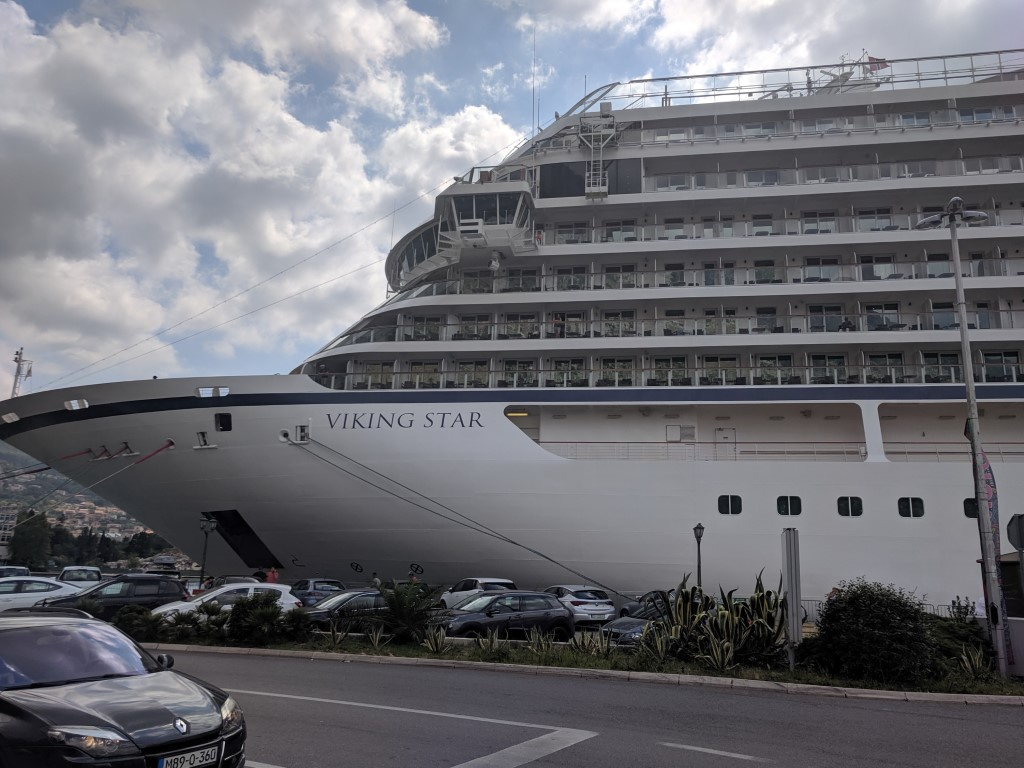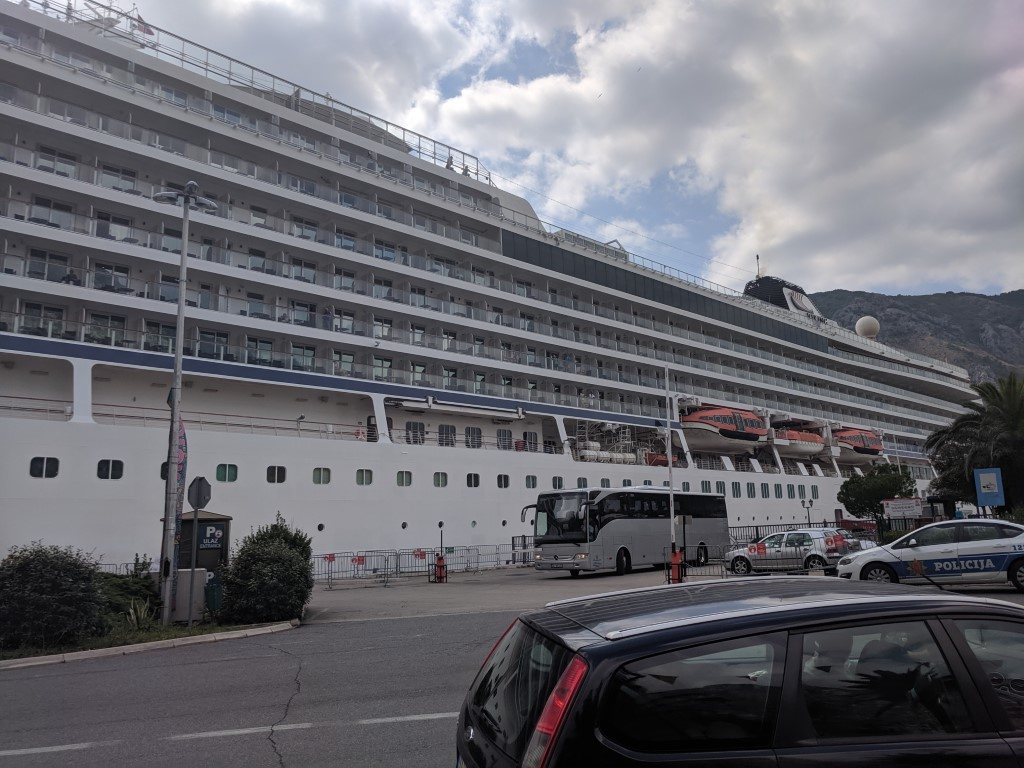 I knew they were huge, but jaysus! That's a double decker bus next to it. So the buildings were nice, but to be honest it was so chock full of people that it felt like the town didn't have much of its own personality left anymore; it was mostly trashy souvenir shops and bad yet expensive restaurants.
However, there's a pretty cool old castle overlooking the town that you can climb to. It's pretty crowded, but also feels more authentic. A lot of the castle rooms are just overgrown with vines, so it was fun exploring it.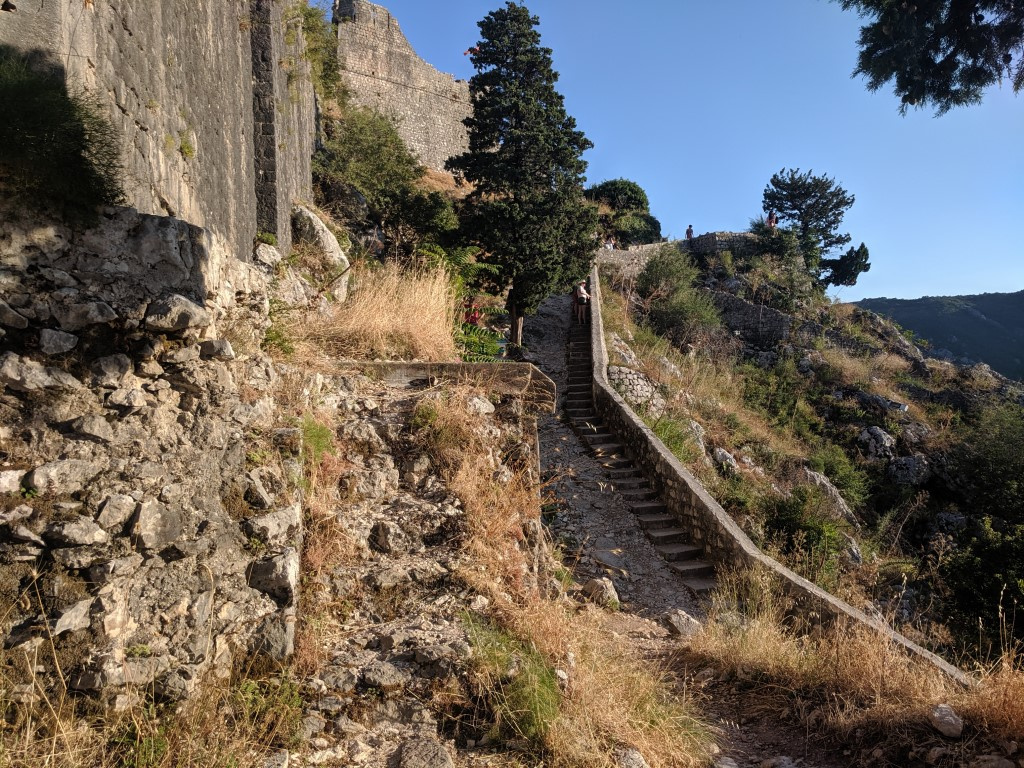 Pretty great sunset view!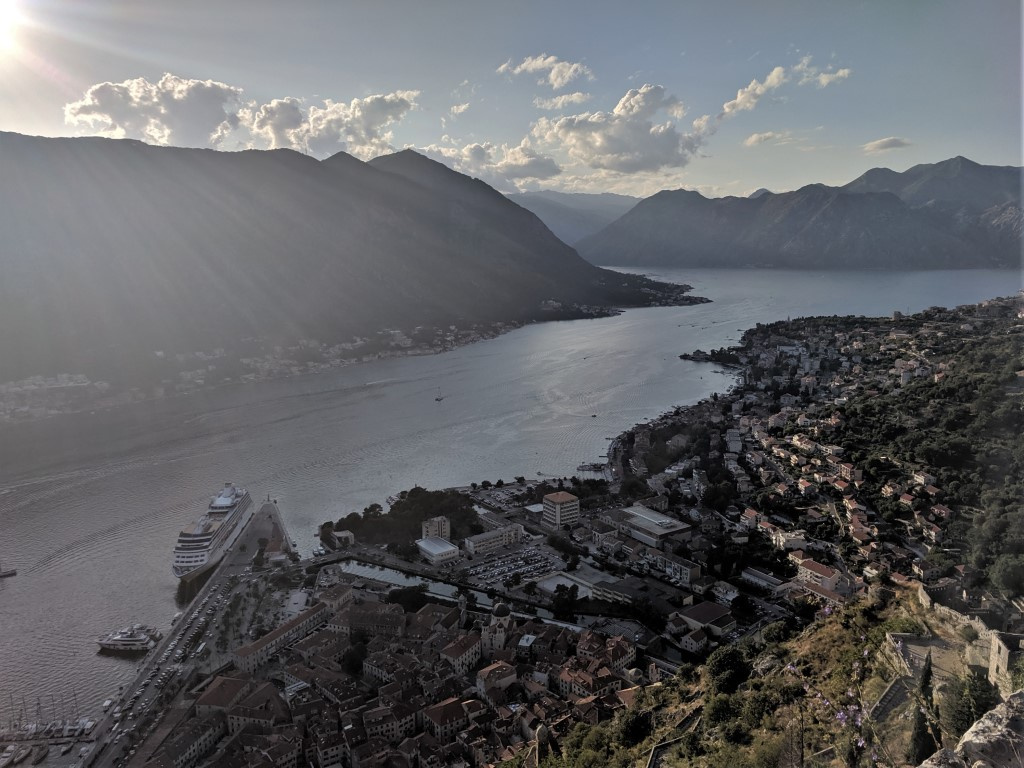 On the way up, we stopped at a cafe for pomegranate juice, and there was a mom cat with four TEENSY kitties that we played with: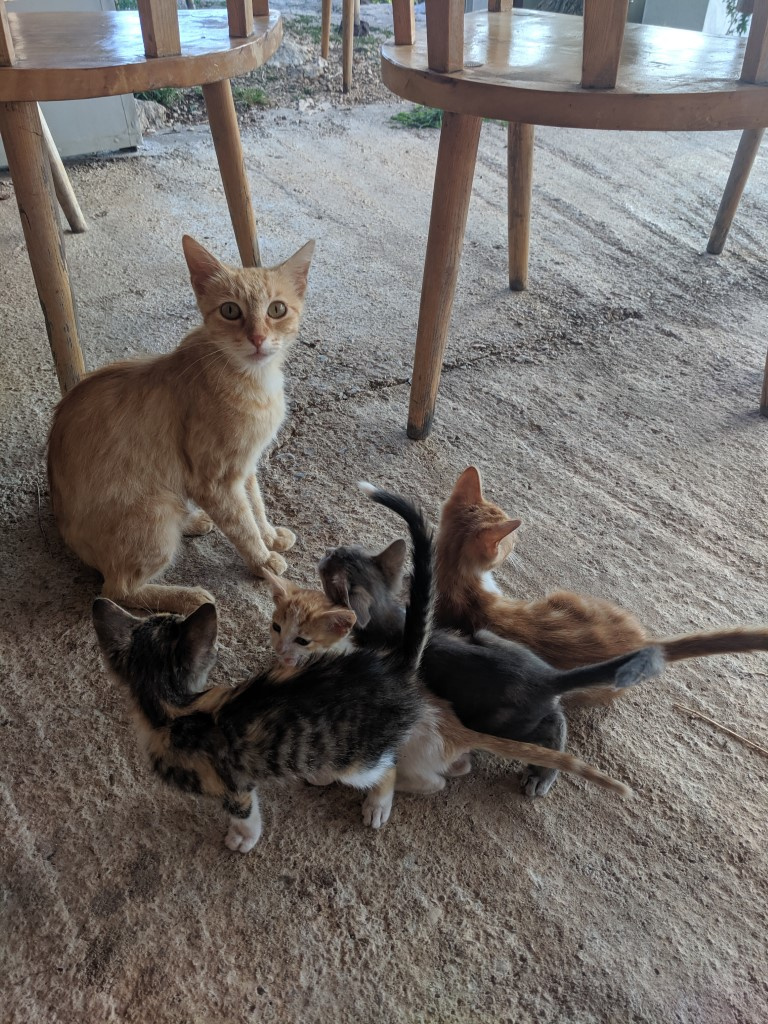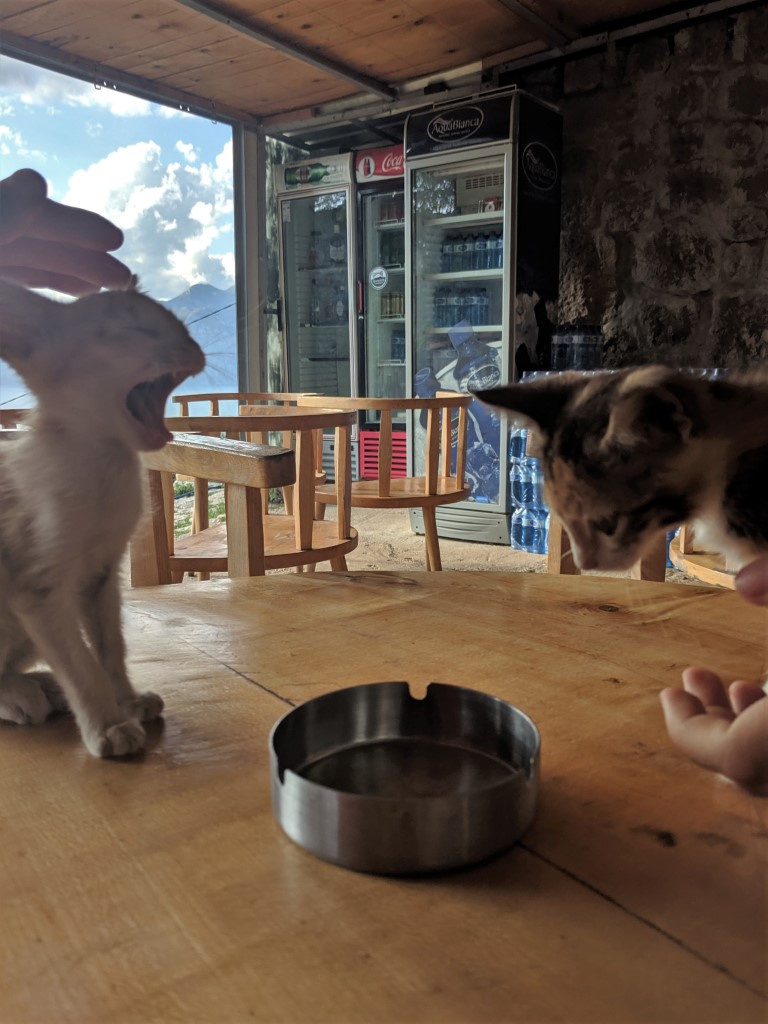 We also went on a boat tour, where they zoom around the Gulf of Kotor scarily fast on a speedboat. It went to this cool church on an island, a tunnel where the Allies used to hide submarines, and the "blue cave", where the water is so blue it seems to glow (the picture doesn't do it justice).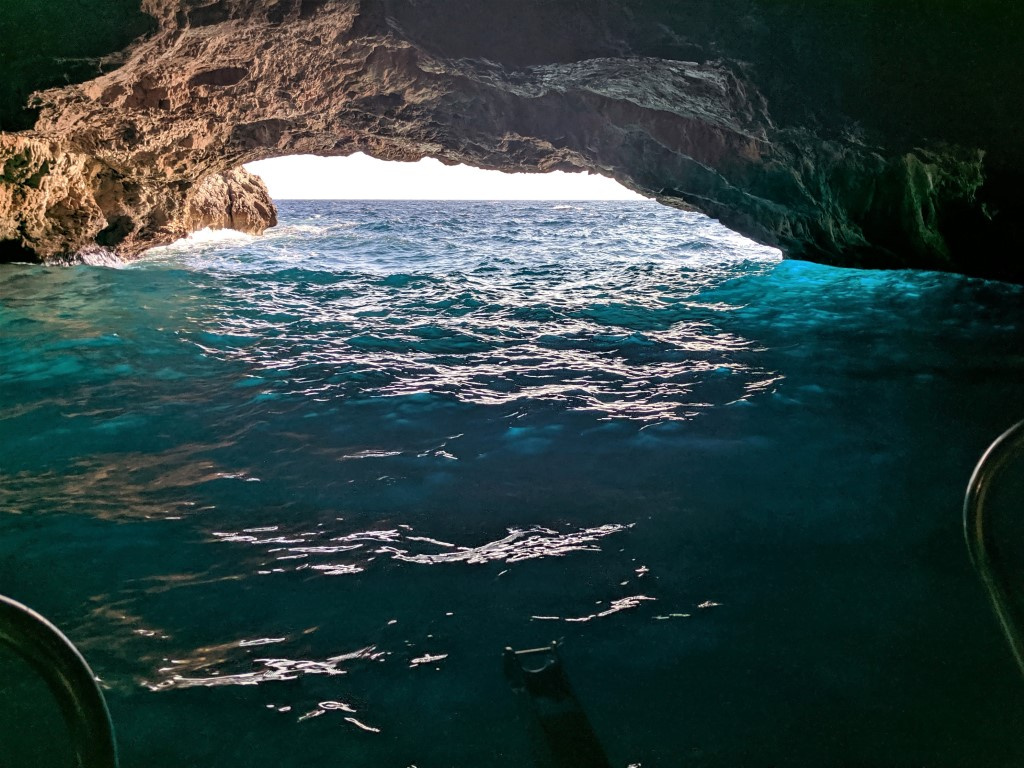 A rare picture of me grinning like a doofus on the boat: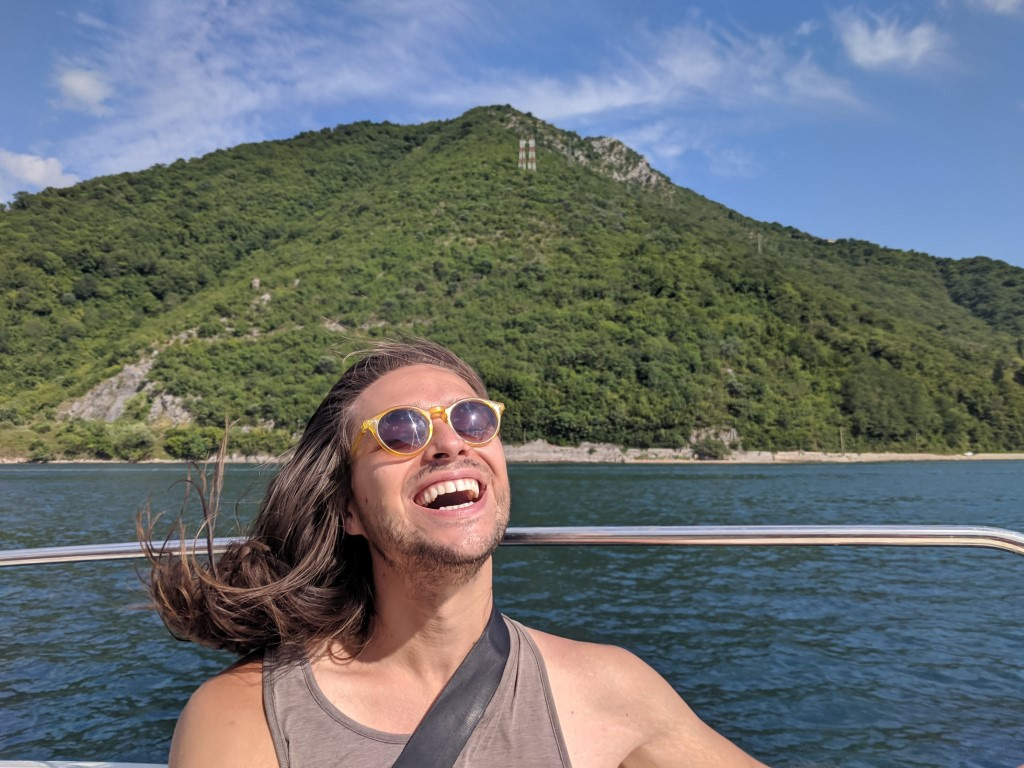 Lastly, we went to Dubrovnik. If I thought Kotor was touristy, I knew nothing. Part of Game of Thrones was shot in Dubronik, but it was touristy before that anyway. It's also mostly about its old town, which is pretty cool to be fair: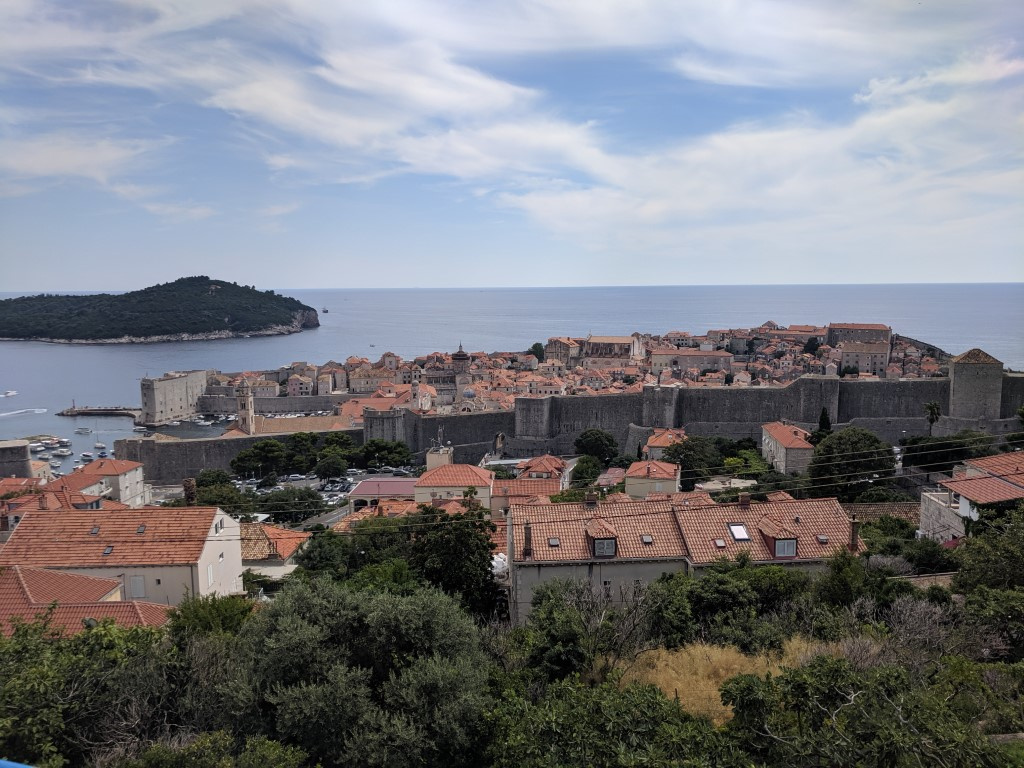 The main street (Stradun) was an absolute disneyland: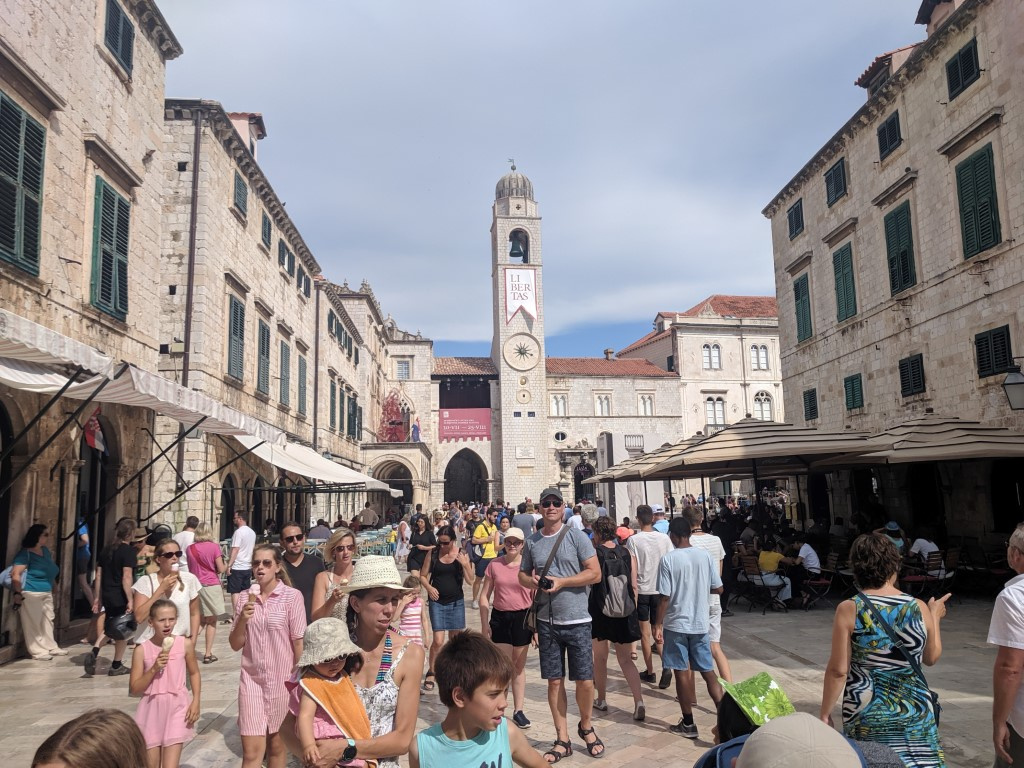 bleh. However, it was bigger than Kotor and I actually felt like we were able to get away from the crowds if you just went a few streets away, and then it was pretty cute. We wanted to walk on the city walls (you can see them above), so we were searching around for the entrance for a while… until we realized that it wasn't a coincidence that it's hard to find, because there's only one entrance and they charge you 30 euros each! No thanks. Instead, we went to a local beach and swam in the perfect temperature water until sunset.
Anyway, that's all! I highly recommend Albania to anyone looking for a cool place to go that you might not think of. It might have a reputation but I found it to be completely unwarranted and probably just a relic of harsher times. We didn't even go to the south where there are cool places like Gjirokaster, Lake Ohrid, and others. Parts of it (like the beach city Durres) are actually already fairly touristy, but I highly suspect that the rest will blow up in the next few years when people realize how cool, cheap, and safe it is. I'd also really love to go to Bosnia, Kosovo, and Serbia. Someday!